Vancouver Mission Star
This message was written by President and Sister Middleton. It also appears in the Vancouver Star, the weekly newsletter of the Vancouver Mission. It is sent to each companionship throughout the mission.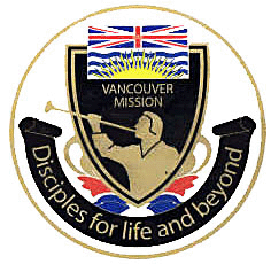 Canada
Vancouver
Mission
Newsletter
July 11, 2005
GAIN A VISION OF POTENTIAL CHURCH GROWTH IN BRITISH COLUMBIA
We were pleased to be invited by the Brethren to listen via the Internet to the final training session for the newly called Mission Presidents held in Provo at the MTC on June 29, 2006. We heard superb counsel from Elder M. Russell Ballard, Elder Richard G. Scott, Elder Dieter F. Uchtdorf, and President Boyd K. Packer. Excellent advice was given, and we share herein a few of the highlights with you. The advice given allows all of us in British Columbia, missionaries and members alike, to capture a vision of how we can grow the Church in British Columbia at a level consistent with the will of the Lord. President Hinckley has challenged the Church worldwide to double its baptisms. In British Columbia, because our growth has historically been so low, our vision is to grow the baptisms by tenfold over what they have been. That level of Church growth is not only doable, but has to be the goal of each and every one of us.
Member Referral Commitment is the Key
Consider what would happen to an average ward in British Columbia if each member commits to and accomplishes the goal of bringing three of their non-member acquaintances per year to the Church for a Tour or to a Church activity coupled with a Tour. We would urge each missionary companionship to ask the ward clerk how many active members there are in your ward or branch, then calculate what should be realized in number of baptisms yearly in that ward. If, for example, there are 75 active members in a ward, and each brings three of their non-member acquaintances on a Tour yearly, and one out of seven goes on to baptism, which is the consistent record we are seeing in British Columbia, that ward will have 33 baptisms yearly!! We would urge each missionary companionship to do that mathematical exercise, checking with the ward clerk to find out the average number of active, baptized members, and then calculate how many baptisms can be realized per year. When we consider that each new member baptized as a result of a member referral is far more likely to remain active, because he or she came into the Church with a built-in fellowshipper, his or her member friend, it is not hard to realize that within three to four years there will be sufficient growth in the ward to require that the ward be divided, or sufficient growth in a branch to require that a ward be created. Please do this exercise in your ward or branch. Understand that when these figures are calculated for all of British Columbia, it is anticipated we will have over 1500 baptisms yearly. We will not be satisfied that members and missionaries are doing their part in missionary work until that goal of 1500 baptisms yearly is reached or exceeded. We simply are not doing what our Prophet has asked us to do until we have achieved that goal – that vision of what can and should be done must remain our minimal standard. With the Lord's help, using the admonition in Alma to "use boldness, but not overbearance" (Alma 38:12), the goal of 1500 baptisms per year will be reached! Once you have calculated them, please share your ward or branch anticipated baptism figures with us.
Why Do We Emphasize the Tour?
Some members have questioned why we emphasize using our Church facilities in our initial interaction with non-member investigators. Interestingly, Elder M. Russell Ballard in his advice to Mission Presidents on June 29, 2006, made the point that we need to use the beautiful physical facilities the Church has built as showcases for what we enjoy as members of the Church. In addition to the marvelous physical facilities we have throughout British Columbia, and that glimpse of our beautiful buildings should be part of the all-important, initial first impression that an investigator receives, a well-done Tour will present a brief glimpse of what we members enjoy by being members of Priesthood quorums and auxiliaries. Each week we receive instructions in our priesthood quorums and auxiliaries in how to meet the challenges posed in this modern, very challenging society in which we live, in addition to the important critical teachings we receive about the Plan of Salvation. We are finding repeatedly that to limit that all-important first impression to just simply hearing of the doctrine of the Restoration, which of course is critically important to understanding the Gospel, gives a new investigator only a partial understanding of why someone should join our Church. We must present the all-around picture of what being a member would be like by demonstrating our ward or branch building facilities as well as explaining the importance of contemporary family and life-style messages we receive through attending Church each Sunday.
Therefore, we are concentrating on the Tour as the means to first present the Gospel-restored to a new investigator.
In future Vancouver Stars we will outline additional points brought to us through the MTC training session.
Every Family is Developing a Mission Plan in Victoria Second Ward, by Elder Jed Pugsley (and Benjamin Zufelt)
"The Victoria 2nd Ward is on fire! Everybody is looking for somebody to bring on a Tour or to invite to take the missionary lessons. It is so cool to see the ward leadership excited about sharing the Gospel. Part of this excitement was generated from the creation of the awesome Ward Mission Plan, which is on a laminated 5 x 8" card with magnets on the back which is now on every member's refrigerator. My favorite part is that each family has been asked to create their own Personal Family Mission Plan, which puts both authorship and ownership into the hands of the member family, and the members set goals that they can accomplish. This Plan is setting up the ward for great success.
"'Attitude equals Altitude,' and the attitude of the Victoria 2nd Ward is sky high, so there is no limit to where the work will go here. PEC meetings as well as Ward Councils are all centered on missionary efforts and what can be done to help current investigators as well as efforts that can be used to help us as missionaries to increase our teaching pool. Bishop Frank Hitchmough seems to be setting the tone and the rest seem to be catching the Missionary Spirit. It is awesome to be part of the quickening of the Spirit here in British Columbia."
Correction Regarding Roger Lima's Conversion Story
Last week's STAR talked of the conversion story of Brother Roger Lima, but misstated that he resides in the Burnaby Ward. Brother Lima is a member of the Coquitlam Ward led by Bishop Joe Bateman. We apologize for the mistake.
We love each and every one of our missionaries, and are finding that in addition to a great love for our full-time missionaries, we love our wonderful, indispensable, fabulous member missionaries, without whose efforts this work becomes instantly less effective.
--President and Sister Middleton
FROM THE ASSISTANTS—ELDERS SWAPP & LYMAN
"Seek first to understand then to be understood." (unknown) "Life is like a box of chocolates: you never know what you're going to get." (Forest Gump) Peace out. Love Your Brothers In the Gospel.
WELCOME NEW MISSIONARIES
Elders: Lisiate Feinga (Mesa, AZ), Spencer Harrison (Salt Lake City, UT), Andrew Johnson (Riverton, UT), Logan Magnusson (Heber, UT), Tyler Shumway (Pleasant Grove, UT)
Sisters: Kristiana Bardardottir (Hveragerdi, Iceland), Brittany Dow (Vienna, VA), Tracy Whiting (Highland, UT)
Language Elders: James Cornwell-MAN (Las Vegas, NV), Benjamin Thompson-MAN (Barrie, ON)
FAREWELL TO THE FOLLOWING
Elder Ryan Bench
I know that I wasn't the best missionary, but I feel that I gave it my best. Be consistent and enjoy yourself. I know this is the Lord's work. The Gospel of Jesus Christ was restored through the Prophet Joseph Smith. The Book of Mormon is God's word. And to all my "boyz," I love you. Keep it "rill." Peace.
Sister Diana Gonzalez (Gonzo)
Elders and Sisters, it has been an honor to serve with such a valiant army of missionaries. Remember: "When the Lord commands, do it!" (Joseph Smith). He needs your hard work to build up His kingdom in beautiful British Columbia. The Church is the only true Church on earth. I know Christ lives. Love ya!
Elder Joshua Haren
"If you take life too seriously, you'll never make it out of 'here' alive." (V.W.)
Elder Steve Howell
Most of the blessings are found in the second mile, miracles are found in the third, and success is found in the love you give along the way. The only way to waste your time and heart here is to not give them all away. God lives, Jesus is the Christ, and this is their work. Do it!
Elder Hsiao
Matt 16:25 – Or, as President Hinckley was told, "Forget yourself, and go to work." That is where the greatest joy and fulfillment lies.
Adieu - 再會吧.
Sister Ha Khong
"Nothing happens in the Church unless you work. It is like a wheelbarrow: it doesn't move until you get a hold of the two handles and push. Hard work moves the work of the Lord forward, and if you have learned to work with real integrity, it will bless your lives forever. I mean that with all my heart. Believe in miracles. Be faithful." (Pres. Gordon B. Hinckley) I love you all.
Elder Joseph Leonard
Michael Jordon once said, "You miss 100% of the shots you never take." If we don't take the shots we're given, our missions will pass us by. Take the shot, open your mouth and declare the glad tidings of the Gospel to all people everywhere. I promise you will find the joy this mission experience can bring. I hold no malice against any of you and I hope you hold none against me.
Sister Amy Nielson
This has been for "real" the most amazing experience ever! I am so thankful I have been able to serve around such "chill" people… You guys know who you are. It's all about the memories. Remember: WORK HARD, PLAY HARD. FIND OUR BROTHERS AND SISTERS. Peace and love, my friends.
Elder Michael Reina
"You cannot keep both feet on the ground and move forward! There is risk in every choice you make, but there is no true growth without risk…. Take the next step." (Elder Larry Gibbons, Quorum of Seventy). The best part about the mission is when you look back and laugh about the happy and sad memories that made you grow. Work! Work! Work! And when times get tough, say "AKA-CHIN" ; )
Elder Samuel Wolfe
I once stood in a very dark place and my heart was totally empty. Now my heart is full of joy, and I stand in the light! The Church is true. Christ lives. His atonement is real and it works! What an honor it has been to serve here in BC. I love my mission. I will forever be changed because of this marvelous experience. Take care and keep it real!
Elder Tyler Bailey (going home mid-transfer)
"Happiness is when what you do, what you think and what you say are in harmony." (Ghandi)
Elder Robert Knudsen (going home mid-transfer)
"In case I don't see you again, I left you a note." (BJ Hunnicut) "…Know thou, my son, that all these things shall give thee experience, and shall be for thy good. …Fear not what man can do, for God shall be with you forever and ever." (DC 122:7, 9) I love you all. "O be wise; what can I say more?" (Jac 6:12) than goodbye, farewell and amen?
Elder Brady Twedt (going home mid-transfer)
"Death twitches my ear. 'Live,' he says, 'I am coming.'" (Virgil) A mission, like life, comes and goes all too fast. So live it up, enjoy it, and make the most of it. Remember: "Life's a garden, dig it." (Joe Dirt) I've loved my mission. It was hard--really hard, but it made me, and I thank God for that. I've loved working for my Savior, and I've loved working with all of you. Peace.
NEW CONVERTS
Abbotsford: Jessica Beaumont, Jin Young Lee Namaimo: Calia Gregory, Lauren Hiersemann
Prince George: Terrance Stewart Surrey Language: Jesse Regnier
Vernon: Laree Baber, Archie Chantyman, Reginald Daughtrey, Talon Hart, Amanda Hatch, Krista Hunt, Kieley MacDonald, Brent Przybille, Danielle Strate
Victoria: Benjamin Fournier, Richard Gerrand, Peter Jimmy, Shane Joseph, Caitlin Miller, Kelleybeth Norris
UPCOMING ZONE CONFERENCES FOR JULY-AUGUST
Jul 20 – Van/Van Lang Jul 27 – Surrey/Surrey Lang/Abbots Aug 3 – Nanaimo/Victoria Aug 8 – Vernon Aug 11 – Pr George
Reminder: ask for a referral in every conversation with a member or non-member alike…."Will you bring an acquaintance on a Tour, and when?"
Remember our mission goal: 10 Gospel contacts per day per missionary outside our usual finding and teaching duties. That includes a Gospel message to everyone you see.
"I, the Lord, am bound when ye do what I say; but when ye do not what I say, ye have no promise." D & C 82:10
As weekly goals are set for each Key Indicator, pray for inspiration, and set goals that are lofty yet achievable. Our ultimate long-term goal is for at least 3 baptisms per companionship per transfer.
to read past messages.
---