Vancouver Mission Star
This message was written by President and Sister Middleton. It also appears in the Vancouver Star, the weekly newsletter of the Vancouver Mission. It is sent to each companionship throughout the mission.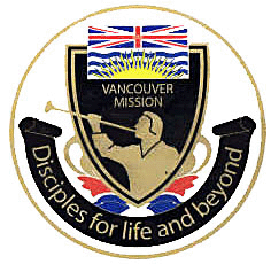 Canada
Vancouver
Mission
Newsletter
August 1, 2006
THE ROLE OF MEMBERS IN A SUCCESSFUL TOUR
Of all the possible ways outlined in Preach My Gospel to introduce an investigator for the first time to the Church and to the message of the Restored Gospel, the chapel Tour in our view remains the best. The Tour has clear-cut advantages. It allows three important points to be made to an investigator in that all-important first impression:
1. The doctrine of the Restoration is presented as the First Lesson is woven into a well given Tour;
2. The investigator has the opportunity to observe directly the magnificent Church buildings in which we worship; and
3. We can present the advantages we as Church members enjoy in meeting weekly with fellow Saints in our auxiliaries and Priesthood meetings where we are taught how to live a moral, Christian, upstanding life, and how to raise a righteous family despite all of the temptations and challenges in our contemporary communities.
A Few Members Object to the Boldness we use in the Tour
We have received feedback from missionaries that a few of our British Columbia members would like to either abandon the Tour, or water it down to the point where it is simply a look at a Church building with no commitment being asked. They object that our missionaries commit the investigator friend of the member to meeting with them for a subsequent lesson, commit them to attend a Sacrament meeting on a subsequent Sunday, or suggest the possibility of baptism. We appreciate and are cognizant of these member's concerns, and would urge that each full-time missionary share with all the members of the ward or branch the important, inspired counsel regarding asking for commitments found in Preach My Gospel. In meeting with leaders in PEC and Ward or Branch Council, we would urge that you have them turn to page 40 in PMG. Read with the members the box labeled "Invitation to be Baptized" at the end of "The Restoration Lesson" on page 40:
"During this or any other lesson, do not hesitate to invite people to be baptized and confirmed. To prepare people for an invitation to be baptized and confirmed, testify often of the importance of all people being baptized by authority, of receiving a remission of sins, and of the wonderful gift of the Holy Ghost. You might say, 'As the Lord answers your prayers and you feel that this message is true, will you follow the example of Jesus Christ by being baptized?'
"The invitation to be baptized and confirmed should be specific and direct: 'Will you follow the example of Jesus Christ by being baptized by someone holding the priesthood authority of God? We will be holding a baptismal service on (date). Will you prepare yourself to be baptized on that date?"
As wards and branches increasingly urge the study of PMG by each family and individual in the ward or branch, the members will come to understand the importance of being bold, but also of being sensitive and being guided by the Spirit during a lesson in the matter of when to be bold. Before taking a member and their non-member acquaintance on a Tour, go over with them the counsel given in PMG. Be certain that they fully comprehend the importance of the boldness taught in PMG, and be certain that you resolve any objections they might have. A question such as the one underlined above strikes us as not being confrontational or overbearing. It simply asks the investigator that if they feel that the message is true will they then follow the example of Jesus Christ by being baptized by the proper authority—no more nor less. Be sure that you have carefully discussed this teaching method and the importance of asking this question with the member before taking that member and their friend on a Tour, and be certain that the member feels comfortable with the concept. Be careful as a missionary that you teach with love, guided by the Spirit, using the advice found in Alma 38: 12 to "Use boldness, but not overbearance."
As Members Read Preach My Gospel, Fears will Resolve and They Will Become Better, More Effective, Member Missionaries
On page 161 in PMG we read the following:
"Many members of the Church have fears about doing missionary work. Many are unsure where to begin or what to say. Many fear that they will lose close friends if they try to share the Gospel with them. There are many ways to help the members. For example, help build their faith by teaching them the message of the Restoration and other doctrines of the lessons. Help them feel the Spirit and power of our message…. Help them understand that offering the restored Gospel will flow more naturally out of relationships where they are seeking to love and serve their family members and friends…. In all you do with members, seek to lift and build their faith to help them do missionary work."
It goes on further on page 161 of PMG to quote Alma 6:6 to encourage members to "Join in fasting and mighty prayer in behalf of the welfare of the souls of those who (know) not God."
The Church Growth in British Columbia will Accelerate as Members Become Missionaries
Many studies and multiple discourses by the Brethren have pointed out that by far the most effective missionary work is done when a member brings their non-member friend or acquaintance to the attention of the full-time missionaries. A Tour or other Church activity is ideally suited to such a purpose. Without members stepping forth in this all-important member missionary function, we full-time missionaries in British Columbia will be relatively ineffective. However, when members step forth boldly as member missionaries, when members follow the admonition and challenge of their stake president to bring 3 or more non-member acquaintances to the Church yearly through a Tour or other Church activity, the growth of the Church in British Columbia will accelerate far beyond anything we have yet seen. When all members step forward we will see the prophesy of Elder Henry B. Eyring come true, that prophesy having been made in March of 2005 in the Nanaimo Stake Conference when he stated, "I am clear that the Lord is going to build the Church in this area in a powerful way and beyond what you might expect. This will come, for the Lord will build great strength in the Church in this area and substantial growth is before us. I can't give you a timeline, but by my human judgment it will be a miracle."
That growth prophesied by Elder Eyring is coming to pass, as members step forth boldly as member missionaries, linking arm in arm with our full-time missionaries. We deem it a privilege and honor to be a part of that missionary vanguard destined, we feel, to see that prophecy come true.
Thank You for Your Prayers and Fast for Elder Chris Anderson's Father
Thanks to all of our full-time missionaries for fasting on Sunday, July 23, 2006, on behalf of Elder Chris Anderson's father, Bishop Jan Anderson. As you know, Bishop Anderson sustained a critical head injury during the week before our fast, and he lies hospitalized in critical condition. Our prayers continue for him.
We love you all and love working with you, full-time missionaries and member-missionaries alike.
--President and Sister Middleton
Reminder: ask for a referral in every conversation with a member or non-member alike…."Will you bring an acquaintance on a Tour, and when?"
Remember our mission goal: 10 Gospel contacts per day per missionary outside our usual finding and teaching duties. That includes a Gospel message to everyone you see.
"Go forth… and establish my word… and I will make an instrument of thee in my hands unto the salvation of many souls." Alma 17: 11
As weekly goals are set for each Key Indicator, pray for inspiration, and set goals that are lofty yet achievable. Our ultimate long-term goal is for at least 3 baptisms per companionship per transfer.
to read past messages.
---