Vancouver Mission Star
This message was written by President and Sister Middleton. It also appears in the Vancouver Star, the weekly newsletter of the Vancouver Mission. It is sent to each companionship throughout the mission.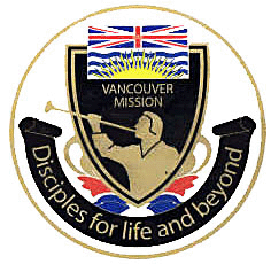 Canada
Vancouver
Mission
Newsletter
August 8, 2006
THANKS TO OUR BRITISH COLUMBIA LEADERS
On Sunday, August 30, 2006 I was privileged to join with all of our magnificent stake presidents, Presidents Kent Burnham, Paul Christensen, Randy Keyes, Bennie Soll, Collin Van Horne, Thomas Walker, and John Young, as we met with our Area Authority, Elder Melvin Perkins, and the Seattle Temple President, President Denzel Wiser, at the Vancouver Stake Center. The occasion was the quarterly Co-ordinating Council Meeting. Hearing our stake presidents speak, seeing their bold, inspired plans for the Church members in British Columbia was an uplifting experience for me. Their involvement in missionary work is extraordinary. Every one of our stake presidents has developed inspired guidelines for their wards and branches to use in developing their ward or branch Mission Plans. The Mission Plans, all of them written in concert with Preach My Gospel, have been innovative and all have met the overall guidelines developed by the stake presidents in Co-ordinating Council Meeting 6 months ago when together they determined that to be effective a ward or branch Mission Plan should contain these 4 elements:
1. The Mission Plan should be simple and short (multiple page Plans just gather dust) so it could be distributed to every member on a single card to be visibly displayed in each member's home in a prominent spot, such as hanging on the refrigerator with magnets.
2. It should involve every ward member, not just leaders.
3. It should have measureable goals for the ward as well as for individual members and families, and
4. It should be flexible, to be reviewed regularly and revised as needed.
Nearly all wards and branches have written their Mission Plan, and members are steadily embracing their Mission Plan more and more. Many wards have urged their members to obtain copies of Preach My Gospel, to study in Family Home Evening and at other times so that they can become bolder, more effective member missionaries. Six of our seven stakes have challenged members to bring 3 non-member acquaintances per year on a Tour with the full-time missionaries (4 per year in the case of the Vancouver Stake), and several wards have adopted the idea urged by President John Young to have members set up a date and time 2 to 3 weeks off for each family to go on a Tour, then have that family start inviting their non-member acquaintances and keep inviting until they have someone to come with them on that Tour.
The vision shared by all in that Co-ordinating Council Meeting is that when our 120 full-time missionaries become effectively 15,000 missionaries as the members learn to become effective member missionaries, Church growth in British Columbia will explode! The goal of 1500 convert baptisms yearly will then rapidly become a reality. Our heartfelt thanks go to each of our stake and district presidents, and the bishops, branch presidents and Ward Mission Leaders who are acting under their inspired leadership to help members truly become member missionaries.
A Great Ward Mission Plan for the Kelowna 2nd Ward is Developed by Ward Mission Leader Brad Ranger and the Ward
During our visit to Kelowna in June we were delighted to receive a copy of the Kelowna 2nd Ward Mission Plan, which had been freshly developed and printed. Brother Brad Ranger, the Ward Mission Leader, shared the Plan with us. The Plan was developed by the Kelowna 2nd Ward leadership and approved by their Ward Council, and it truly is inspired. Printed on firm card stock, which is 5 x 6 inches, it is overprinted on a beautiful color picture of the Savior knocking on a door. The Plan consists of 4 parts, printed clearly on the card:
1. Chapel Tours, with 3 boxes to check off one by one as each Tour for their 3 non-member acquaintances is made through the year.
2. Read the Book of Mormon, and there is a box to check that off.
3. Pray daily for missionary experiences.
4. Phone the missionaries for assignments, and it lists the missionaries' phone numbers. It also reminds the member to use the Missionary Kit which has been developed in conjunction with the Ward Mission Plan to give tips and advice on how to step forth as an effective ward missionary.
On the back of the card are 2 magnets that allow the Mission Plan to be attached to the refrigerator as a daily reminder to each member as they go about their daily activities. Also on the back of the card appears a list of a few scriptures which are related to member-missionary work, including D & C 15:6, Mosiah 2:17, Mosiah 28:3, Alma 36:24, Joshua 24:15, Jacob 1:19, Luke 12:10-11, and Luke 22:32. Ingeniously, with an idea that was truly inspired, below the scriptures is a little statement printed reminding the member to bring the Mission Plan card with them to tithing settlement. This last piece of advice is truly brilliant, as it holds each member accountable to their priesthood authority in the ward, the bishop, to account for what they have done to accomplish the commandment to become a member missionary. It calls for the personal accountability that is central to the plan of salvation, that being that we each account to someone in authority above us for how we have carried out God's plans for us on earth.
This Kelowna 2nd Ward Mission Plan is ingenious. Please feel free to use the ideas developed by the Kelowna 2nd Ward if they fit your ward's circumstances. PMG also asks that each family and each individual develop their own Mission Plan. Only with the development of a Mission Plan with measurable goals can each of us fully plan to accomplish what the Lord wants us to do as His missionary here on earth.
Again, congratulations to the Kelowna 2nd Ward Mission Leader, Brad Ranger, Bishop David Burgess, and to all the rest of the leadership and members who have given input into the magnificent, truly inspired Kelowna 2nd Ward Mission Plan.
Memorization of the 54 Core Scriptures by Incoming New Missionaries
As a new missionary arrives in British Columbia, we ask that he or she commit to memory the first 11 Core Scriptures during the 1st Transfer, the next 11 during the 2nd Transfer, and so forth until all 54 are known word-for-word by the 5th Transfer. Learn more than 11 if you can handle it, but plan on being quizzed at each Zone Conference based on this schedule of an additional 11 scriptures for each Transfer. Practice them with your companion back and forth throughout the day – this type of practice makes them far easier to memorize and keep in mind. Enjoy!
That we might each step forth boldly as obedient, successful missionaries is our constant prayer. We love each of you.
--President and Sister Middleton
Reminder: ask for a referral in every conversation with a member or non-member alike…."Will you bring an acquaintance on a Tour, and when?"
Remember our mission goal: 10 Gospel contacts per day per missionary outside our usual finding and teaching duties. That includes a Gospel message to everyone you see.
"Wherefore, be of good cheer, and do not fear, for I the Lord am with you, and will stand by you." D & C 68:6
As weekly goals are set for each Key Indicator, pray for inspiration, and set goals that are lofty yet achievable. Our ultimate long-term goal is for at least 3 baptisms per companionship per transfer.
to read past messages.
---