Vancouver Mission Star
This message was written by President and Sister Middleton. It also appears in the Vancouver Star, the weekly newsletter of the Vancouver Mission. It is sent to each companionship throughout the mission.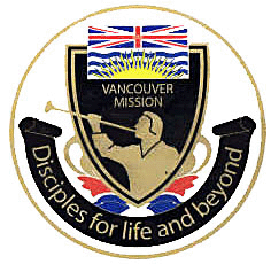 Canada
Vancouver
Mission
Newsletter
August 15, 2006
WITH 15,000 MEMBER MISSIONARIES, 1,500 BAPTISMS YEARLY !
Steadily more and more of our great and faithful British Columbia Church members are stepping forth as member missionaries. As a result we are seeing increasing success in the mission, with convert baptisms up 36% over last year to this point. Essentially all of the increased growth has come from member referrals of their acquaintances, so we give thanks to our members! Vigorously and often!
Help Members Understand Their Role in the Thrice Yearly Set-A-Date Tour Program
One of the easiest ways to help members accomplish the challenge of their stake presidents' goal of bringing 3 non-member acquaintances per year on a Tour or to a Church activity coupled with a Tour is to help them do a Set-A-Date Program. The Set-A-Date Program was presented over 20 years ago by Elder M. Russell Ballard and many other General Authorities, but has not been widely embraced by members until recently. To review how it works, with credit for this focus and insight going to President John Young and his Prince George Stake leaders, we note the simple steps:
1. Full-time missionaries set a date and time 2 to 3 weeks off with a member or member family for a Tour, or a President's Fireside, or a ward activity plus a Tour.
2. Commit the member or member family to keep inviting their non-member acquaintances until one of them agrees to join them on the Tour, explaining carefully that they may need to ask 5 or 10 or more acquaintances until one commits.
3. Give the Tour to the member family and their acquaintance together.
4. Be sure to schedule the next appointment for the investigator for the Plan of Salvation lesson to be given with the member or member family who brought them. (Incredibly, we have received feedback from several members that the missionaries who led the Tour didn't even ask for a commitment for the next lesson, to read the Book of Mormon, or commitment to do anything at the end of the Tour! Please never let me hear of any of our missionaries failing to ask the investigator for a commitment ever again.)
If an acquaintance can't be found, or if they become ill or for another reason can't come, give the Tour to the member family anyway. A well-done Tour always lifts a member family's testimony, even if a non-member is not present (more so if there is a non-member on the Tour). If the Tour is given just to the member family, be sure to share with them the language of faith by which they can lovingly invite their non-member friends to return to a subsequent Tour, explaining how a well presented invitation will in no way risk offending or losing their non-member friend.
Following is an example shared by our missionaries:
Success Through Member Referrals and Hard Work, by Elders Eli Rhoads (and Benjamin Whipple)
"This last week went very well. We continue to work hard to find in every way possible, from member referrals, working with part-members or less-active members, and also through our own finding efforts. It paid off in a big way this past Sunday, when Michael Hicks presented his Gospel-related fireside in the Surrey Stake Center. Prior to the fireside, we hand delivered invitations to members in the ward whom we felt would help with good missionary potential. Through preparation and follow up we ended up giving 3 Tours before or after the Michael Hicks fireside! One was from a family in the Delta Ward – their friend brought along her 2 daughters. One was so touched during the fireside that she cried. A member from the White Rock Ward brought her son and daughter-in-law, and they seemed to enjoy the fireside as well, although they are soon to move to 100 Mile House. We are anticipating that further lessons in the Gospel will be given there. We could tell that she was very happy.
"The last investigator who joined us at the fireside was pretty neat. We had delivered an invitation to a member, Sister Ruby Madarang, and on Sunday after Sacrament meeting she called a co-worker and invited them to the fireside. They came all the way from Burnaby, and joined us on a Tour afterwards. The highlight of the Tour was Sister Madarang bearing her testimony of the Gospel, the blessings it brings her family, and the importance the Church brings her through understanding about and being a part of an eternal marriage. She asked her investigator friend if they wanted that too, and the Spirit was very strong!
"The Delta Ward under the leadership of Bishop Bill Davis, his bishopric and the other ward leaders, is having a special meeting to meet the various needs of the ward. Sacrament Meeting will focus on the Plan of Salvation, to be followed by a Sunday School, which will feature workshops on things ranging from personal and family finances, to emergency preparedness, to dealing with emotional and spiritual problems members might encounter. Bishop Davis has made up special invitations that we are delivering to all less-actives.
"The Spirit of missionary work, combined with our reactivation work, brings the Spirit of the Gospel like nothing else can. We are excited to work with both the Delta and White Rock Wards!"
How We Can Routinely Have 1,500 or More Baptisms Yearly in British Columbia
Though precise figures aren't available, we calculate that we have approximately 15,000 fully or partially active members of the Church in British Columbia based on the fact that a 2003 Church Almanac placed Church membership in British Columbia at 27,875 in 2001. Allowing for Church growth since 2001, and allowing for less-active members, we estimate that there are about 15,000 Church members in British Columbia who are fully or partially active. Assuming there are 4 members in the average LDS family (this is likely too high when widows and other singles are factored in), if each family brings 3 acquaintances per year, and if 1 in 7 goes on to baptism (as we are seeing regularly in British Columbia), we can expect 1,607 baptisms yearly! Considering that one stake, the Vancouver, has increased the member challenge to 4 non-member referrals per year, and considering that the Tours given to non-members is often to non-member families with multiple baptisms resulting, we see that 1,500 baptisms yearly is likely too conservative an estimate. None of us, members or full-time missionaries alike, can rest until this goal is routinely being reached.
Use President's Fireside as a Set-A-Date Event for Members
From now on we would like to use the President's Fireside, held every 6 weeks at the time of the Zone Conference in each area, as an event to which full-time and ward missionaries can invite and commit members to attend, with those committed members then inviting non-member acquaintances to join with them at the Fireside. Typically our Fireside message is a basic introduction to the Church, and we usually show the Church DVD, The Restoration. For new investigators we would hope that a Tour of the Church facility is given before or after. This allows members to focus intensively for 2 or 3 weeks on inviting, and gives a nice way for members to fulfill their obligation of bringing 3 non-member referrals yearly to a Church activity.
With the Lord's help, with the commitment and understanding of our faithful members, and with the boldness in missionary work we are learning from the scriptures, from Preach My Gospel, and from the Brethren, it will happen. In our opinion, this is how Elder Henry B. Eyring's prophecy about British Columbia that "The Lord is going to build the Church in this area in a powerful way… and substantial growth is before us," will come to pass.
We revel with you in helping the member missionary saints fulfill that awe-inspiring prophecy. We love you, and love working with you.
--President and Sister Middleton
Reminder: ask for a referral in every conversation with a member or non-member alike…."Will you bring an acquaintance on a Tour, and when?"
Remember our mission goal: 10 Gospel contacts per day per missionary outside our usual finding and teaching duties. That includes a Gospel message to everyone you see.
"Let virtue garnish thy thoughts unceasingly; then shall thy confidence wax strong in the presence of God." D & C 121:45
As weekly goals are set for each Key Indicator, pray for inspiration, and set goals that are lofty yet achievable. Our ultimate long-term goal is for at least 3 baptisms per companionship per transfer.
to read past messages.
---