Vancouver Mission Star
This message was written by President and Sister Middleton. It also appears in the Vancouver Star, the weekly newsletter of the Vancouver Mission. It is sent to each companionship throughout the mission.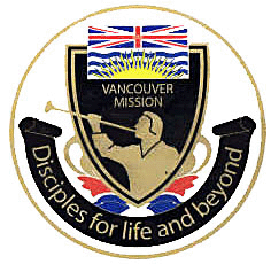 Canada
Vancouver
Mission
Newsletter
August 23 2006
COMMITMENTS
As we teach investigators, as we work with our wonderful member missionaries, obtaining commitments is at the heart of our success. Commitments are essential for an investigator to progress. They must make commitments to read from the Book of Mormon, to pray, to attend Sacrament Meeting, to obtain a testimony, and to set a baptismal date before they ever will be baptized and confirmed into the Church. Similarly, if we fail to lovingly but boldly Set-A-Date with members to come on a Church Tour, and then commit them to keep inviting their non-member acquaintances until they find someone to come on the Tour with them, our success will be limited. At the core of being a successful missionary lies the ability to lovingly, persuasively obtain commitments, using the all-important D & C 121 technique of asking with "persuasion, by long-suffering, by gentleness and meekness, and by love unfeigned" (DC 121:41). We are counseled in that important scripture that, "No power or influence can or ought to be maintained by virtue of the priesthood" (DC 121:41), and so our invitation to a member to Set-A-Date for a Tour to which they will find and bring a non-member acquaintance must be given boldly, but lovingly and diplomatically, assuaging their fears with reassurance that they are simply following the Lord's plan which was revealed to their leaders through inspiration. If our invitation for a commitment is not sufficiently bold, or even worse, if we fail to ask for a commitment from the investigators or members with whom we work, our work will be quite ineffective. The heart and soul of our work as missionaries lies in boldly obtaining commitments. The need for commitments is true not only for full-time missionaries, but for member missionaries as well.
A Commitment Invitation Is Essential To Find and Convert
In PMG we read that "extending and following up on commitment invitations is vital because:
· "People become converted as they live the principles they learn and feel the Spirit confirm that what they are doing is pleasing to their Father in Heaven.
· "Repentance and change will help people conquer challenges, rid themselves of shame and guilt, and experience the peace and joy of God's forgiveness.
· "Keeping commitments prepares people to make and keep sacred covenants" (PMG, pg. 196).
Remember To Ask For a Referral From Everyone
The summary of how we can become effective missionaries appears on the inside back cover page of PMG. Note that the only bolded line of advice is to "ask for referrals from everyone!" That advice is essential for full-time missionaries to become effective, but applies equally to members after they Set-A-Date for a Tour. They can and will find a non-member acquaintance to come with them on a Tour if they simply apply this advice given in PMG to themselves as they ask everyone they see to join with them on the Tour through their Church at the time to which they have committed, and if their non-member friend can't go, then ask them for the names of their friends who might be interested. The Lord will help each of us in this bold request, and with His help we will not fail.
A Novel "Ether Rock" Set-A-Date Program in Kamloops, by Elders Daniel Roy (and Callin Morrill)
"We are starting a new 'Set-A-Date' program in the Kamloops Second Ward. We gave it a unique name—the 'Ether Rock' Program—and gathered the materials to make it work. It is a 'Set-A-Date' Program based on our Ward Mission Plan, and the story of the Brother of Jared. We gathered together some big rocks, made copies of Elder Ballard's talk given in the last General Conference, and made the appointments. We then start off by reading Elder Ballard's talk, 'Creating a Gospel Sharing Home' (which is the basis for our Ward Mission Plan), then we read the story of the Brother of Jared building the barges because he was commanded to. When he asked the Lord what they should do for light and air on the barges, the Lord answered how they could supply air, but left the question of the light on the barges up to the Brother of Jared to decide what should be done. Here is where the story gets symbolic. The Brother of Jared ponders what he should do (or in our case whom he could bring on a Church Tour). He came up with the solution to find rocks that could be made to give off light (or to bring people into the Church). He worked extremely hard to molten down the rocks into clear stones, but the rocks still weren't glowing (member invitations, etc.). So he brings them to the Lord in FAITH, asking the Lord to touch the stones, (or the people's hearts) so they would then glow. The Lord did touch the stones and they were illuminated.
"So too can the hearts of those with whom we have been working be touched. If we do all we can to prepare the stones as best we can, then the Lord will do His part and touch them (or send His Spirit to testify of truth). After explaining the concept we then present the members with a rock and coloring tools to write three dates on the rock—one date for each of their three Tours. We have made a follow-up binder with our 'Ether Rock' appointments and commitments because our goal is to have every family doing this 'Ether Rock' Set-A-Date program."
The Relationship Between a Bishop and the Full-Time Missionaries, by Elder Larsen Boyer (Elder and Sister Boyer are senior couple missionaries working in Kamloops)
"You suggested that I write up some of my thoughts about my past experience as a bishop regarding my interacting with full-time missionaries. When I was a bishop, various missionaries in my ward were either dead weight or charitable ministering angels. I found that missionaries would either plead for help in finding something to do or, in contrast, give ready service in whatever way might be needed. In the latter case, the blessings are always mutually beneficial. Every bishop has very little spare time, but I have learned that making time for a working relationship of trust with the full-time missionaries is extremely helpful not only in growing the ward numbers, but also in the retention of new members. The following paragraph from Preach My Gospel epitomizes mutual benefits:
"'The starting point in building strong relationships with members is the bishop. Offer to help and serve in any righteous way that he asks. Regularly ask yourself, 'Am I a blessing or a burden to the bishop?' Develop a 'How can I help?' attitude. If you will look for opportunities to love, serve, and teach, the bishop and ward members will be more likely to trust you with their family members and friends (PMG, pg. 161).'"
We love each of you and pray constantly for you.
--President and Sister Middleton
FROM THE ASSISTANTS—ELDERS LYMAN & J. DAVIS
Humility is concerned with what is right. Pride is concerned with who is right. Forget yourself and go to work, "…for he that loseth his life for my sake shall find it" (Matt 10:39). You are here to represent the Lord for only two short years, so as soon as you have finished reading this newsletter, get back to work.
WELCOME NEW MISSIONARIES
Elders: Joshua Binks (Bountiful, UT), Tanner Carlisle (Auburn, WY), Jared Fullmer (Sandy, UT), Jeffrey Johnson (Winnebago, IL), Spencer Lassetter (N Salt Lake City, UT), Alex Marcum (Brigham City, UT), Scott Marianno (Fairfield, CA), Stanley Peck (Payson, UT), Brandon Ruesch (Las Vegas, NV), Peter Stevenson (Idaho Falls, ID)
Language Elders: Jacob Roberts-MAN (Spanish Fork, UT)
FAREWELL TO THE FOLLOWING
Elder Jefferson Allen
Stay positive and love your life because you only have one.
Elder Norman Arbuckle & Sister Olive Arbuckle
"It takes a little courage and a lot of self control and some given determination if you want to reach a goal. It takes a deal of striving and a firm and stern set chin, no matter what the battle if you're really out to win. There is a rule in life to guide you as you see prosperity: Never put your wishbone where your backbone ought to be" (unknown). "If you wake up in the morning with your hardest job to do, don't start the day with grumbling; that won't help you see it through. Be glad for work that's difficult, for tasks that challenge you. Workers find a thousand blessings the idle never knew." (Unknown) We will miss you all and will think of you often.
Sister Claudia Calderon
"Angels (you) are declaring it, for the purpose of preparing the hearts of the children of men to receive His word." Do you see them in white? Do you see His vision (PMG)? "Let us glory, yea, we will glory in the Lord; yea, we will rejoice." He who gives all will see. Arise, and go forth, as the Lord commands. Love them. Jesus is the Savior of all mankind. This is God's work. So work! I love you all. El vive, He lives.
Elder Joshua Coon
I'm tickled and delighted to have served here. At the close of these two years I can only plead, "I am willing, …O Lord. Help me keep you in my life" (M. Brothers). Thanks to all of you who have helped me do this thus far. Sweet is the work! This is Christ's Church.
Elder Christopher Eckman
We can't become what we need to be by remaining what we are.
Elder Paul-Michael Fernandez (extending)
Preach His Gospel. "…[U]nto what were ye ordained? To preach my gospel by the Spirit, even the Comforter which was sent forth to teach the truth" (DC 50:15).
Elder Nathan Firth
"Faith is the power; Love is the motive; Obedience is the price; The Spirit is the key; and Christ is the reason" (Ed Pinnegar).
Elder Shane Hohman
Our Heavenly Father loves us. Jesus Christ atoned for our sins. The Holy Ghost testifies of truth. I know this is true more than ever before. "I'm headed home at last; [Canada] is in the past. I was finding out who I was and [it's] raining on Christmas" (Royle).
Elder Jonathan Jensen
2 Tim 1:7-8 This Gospel is the greatest thing anyone can have in this life. We are here to build the Celestial Kingdom. This Church is true. Trust in the Lord and miracles will happen, and have fun as you work.
Elder Joel Leaman
It has been a wonderful opportunity here serving a mission. I've found that when things go wrong, just don't worry so much and get back to work. Whatever situation you're in just know "thine afflictions shall be but a small moment," and that "all these shall give thee experience." God knows your potential. Look for the lessons He teaches to become who He knows you can become.
Elder Bucky Lumsden
Be obedient and get 'er done! Most importantly, love all as you are loved!
Elder Soukson Praxaybane
Thank you to my wonderful companions and missionaries who gave me strength and hope when I was sad and empty. Your love and friendship with your testimony of the Gospel has helped build my own testimony. I have gained a testimony of gratitude and love and charity. Because of my experiences this past two years, my Asian heart has grown to a new level. All of ya'll is a mighty blessing to me. I love ya'll, folks.
Elder Eli Rhoads
Experience has taught me that there are no secrets to missionary work. Don't complicate things! The things we've been taught all along—obedience, work, prayer, faith, and, of course, love are all that's needed. The rest is left to the Lord and He always does His part. I love the Lord, this people, and all of you, and leave without any regrets.
Elder David Seamons
Our dreams are made out of real things like two years to serve the Lord, hard work and sacrifice. Love is the answer—at least for most of the questions of my heart—Why are we here? Where do we go? How come it's so hard? (Hymn 221) It's been epic and yet it seems the saga has just begun.
Elder Daniel Taylor
As Uli Mendel from Terrace would say, "You guys are truly the magic missionaries." The Lord lives, Joseph was a prophet, scripture power is the power to win. Classic times, my friends, CLASSIC!
NEW CONVERTS
Abbotsford: Patrick Yuan
Nanaimo: Duane Duncan, Sharon Greene, Charlene McIver
Prince George: Kaiya Conniff, Shawnalei Ballantyne
Surrey Language: Jocelyn Chiang, Viviana Ospina, Emily Yang, Jia Mei Yuan, Juan Quina Hernandez
Vancouver: Daria Mikhailytcheva, Garnet Mushka
Van Language: Elizabeth Macintosh, Jozef Ter-Mitchell, Leda Diaz, Brian Perez, Henry Perez, Jean Zhao
Vernon: Nicole Johnson, Peder Tarp, Chelsea Wallach, Megan Kovacs
Victoria: Tamara Fisher, Patricia Aleck, Dennis DeHoop, Richard Gerrard
UPCOMING ZONE CONFERENCES FOR JULY-AUGUST
Aug 31 – Van/Van Lang Sep 7 – Nanaimo/Victoria Sep 13 – Surrey/Sur Lang/Abbots Sep 20 – Vernon Sep 22 – Pr George
Reminder: ask for a referral in every conversation with a member or non-member alike…."Will you bring an acquaintance on a Tour, and when?"
Remember our mission goal: 10 Gospel contacts per day per missionary outside our usual finding and teaching duties. That includes a Gospel message to everyone you see.
"If any man will do His will, He shall know of the doctrine, whether it be of God, or whether I speak of myself." John 7:17
As weekly goals are set for each Key Indicator, pray for inspiration, and set goals that are lofty yet achievable. Our ultimate long-term goal is for at least 3 baptisms per companionship per transfer.
to read past messages.
---