Vancouver Mission Star
This message was written by President and Sister Middleton. It also appears in the Vancouver Star, the weekly newsletter of the Vancouver Mission. It is sent to each companionship throughout the mission.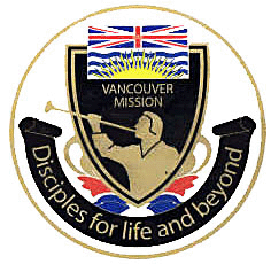 Canada
Vancouver
Mission
Newsletter
August 30 2006
THE POWER OF THE SET–A–DATE PROGRAM
The Set-A-Date program, presented forcefully and eloquently by Elder M. Russell Ballard and the Brethren for years and most recently at the April, 2006 General Conference, works magnificently when faithful members Set-A-Date for 2 or 3 weeks off for a Tour, then repeatedly ask among their non-member acquaintances until an individual or family agrees to come with the member on the Tour to which they have been committed with the full-time missionaries. One of every seven investigators who goes on a Tour with a member acquaintance goes on to become baptized. It works! It is the single most effective method the Lord has given us to present the Restored Gospel to one of His children in British Columbia.
We are finding repeatedly that when the ward or branch leadership embraces this "Set-A-Tour-Date" and leads by their example, the rest of the ward or branch members rapidly follow suit. On the other hand, if the ward or branch leadership doesn't support this concept, or is lukewarm, that same attitude is reflected in nearly all of the members. An outstanding example of how strong hands-on leadership in a ward motivates members can be seen in the account of a Victoria 2nd Ward PEC meeting:
Set-A-Tour-Date Program Embraced by Bishop Hitchmough and Ward Leaders in Victoria 2nd Ward, By Elders Jed Pugsley (and Tyler Shumway)
"Let me tell you about the reaction that we got as we introduced the 'Set-A-Tour-Date' program to the PEC. The plan was accepted very well! Some comments included, 'It just makes sense,' from Brother Richard Palfrey, the Elders Quorum President. Brother Dale Ruttan, of the bishopric, pointed out that the commitment just needs to be made as he spoke to the PEC. Bishop Frank Hitchmough then went around his office and asked for a date from everyone in attendance. Those who set a date were: Bishop Frank Hitchmough, Brother Dale Ruttan, Brother Richard Palfrey, Brother Emery Baldry, Brother Gordon Goodman, Brother Mike Mulholland, Brother Jim Arnott, and Brother Walter Brautigan. I think that this is just the beginning for our Set-A-Tour-Date program. In the Victoria 2nd Ward, Bishop Frank Hitchmough believes that things start at the top and then work down, or as the leadership leads by example, the members will follow."
Editor's note: Congratulations to Bishop Frank Hitchmough and his Victoria 2nd Ward leaders for embracing so vigorously the most effective missionary tool we have in British Columbia, the Set-A-Tour-Date challenge. The ward members will now take their cues and their enthusiasm from this bold ward leadership. We share Bishop Hitchmough's vision that "things start at the top and then work down" – it has always been and will ever be so in effectively leading any ward, branch, stake, mission or indeed the Church.
The Value of a Tour for Less-Active Members, by Sisters Coleen Murray (and Brittany Lyn Dow)
"We met with a family in our ward that was baptized eight years ago, but have been attending Church very rarely the past five years. Their home teacher mentioned to us that they would be a good family for us to visit. We were able to meet with them in their home, and there invited them on a Tour. The Tour proved to be a marvelous opportunity for them to feel the Spirit, and many of their concerns about coming to Church were brought up and resolved during it as well. This family came to Church the next Sunday and has been attending for 4 Sundays in a row now! We are grateful to have used the Tour as an effective tool in less-active work and have used it for several other less-active and part-member families as well.
"We also had a successful Tour with the Towne family. The mother is a member but hasn't been to Church for years. Her husband and their two boys are not members. During the Tour they committed to come to Church on Sunday, to read a chapter of the Book of Mormon together, and to have us come over and teach them. It was awesome!"
Thanks to all our full-time missionaries and our many member missionaries for all that you do. We love you.
--President and Sister Middleton
Reminder: ask for a referral in every conversation with a member or non-member alike…."Will you bring an acquaintance on a Tour, and when?"
Remember our mission goal: 10 Gospel contacts per day per missionary outside our usual finding and teaching duties. That includes a Gospel message to everyone you see.
"I know thy works, that thou art neither cold nor hot; I would thou wert cold or hot. So then because thou art luke-warm, and neither cold nor hot, I will spue thee out of my mouth." Rev 3:15-16
Our constant prayer is that our missionaries, full-time and member missionaries alike, might become white hot in the work, that our Father in Heaven will bless us with accelerating Church growth in British Columbia.
As weekly goals are set for each Key Indicator, pray for inspiration, and set goals that are lofty yet achievable. Our ultimate long-term goal is for at least 3 baptisms per companionship per transfer.
to read past messages.
---