Vancouver Mission Star
This message was written by President and Sister Middleton. It also appears in the Vancouver Star, the weekly newsletter of the Vancouver Mission. It is sent to each companionship throughout the mission.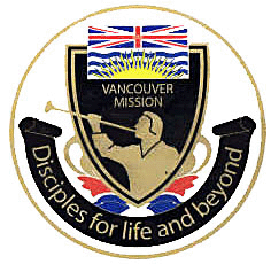 ELDER BALLARD'S COUNSEL ON BECOMING A SUCCESSFUL MISSIONARY
Many of our member and full-time missionaries in British Columbia have noted the inspirational and prescriptive counsel that Elder M. Russell Ballard gave during the April 2006 General Conference. His address was entitled "Creating a Gospel Sharing Home", and we would like to refer to a few of the points he made as they clarify the guidelines by which we can successfully accelerate the growth of the Church here in British Columbia.
Set-A-Date Program is Re-emphasized
Elder Ballard in his remarks noted, "More than twenty years ago I suggested that the key to successful member missionary work is …to prayerfully Set-A-Date to have someone prepared to meet with the missionaries. I have received hundreds of letters from members who have exercised their faith in this simple way. Even though families had no one in mind with whom they could share the Gospel, they Set-A-Date, prayed, and then talked to many (editor's emphasis) more people. The Lord is the good shepherd, and He knows His sheep who have been prepared to hear His voice. He will guide us as we seek His divine help in sharing His Gospel."
The Set-A-Date program was outlined in an address given by Elder Ballard over twenty years ago, and the principle and concept has not changed but has only been refined with time. It works! Every time one of our British Columbia members or families has tried it, it has worked.
A simple calculation shows that if each of our member families in British Columbia uses this Set-A-Date program to find three non-member acquaintances yearly to bring on a Tour or to another Church activity coupled with a Tour the number of baptisms will be at least 1600 yearly. It works!
Missionary Work is the Responsibility of Every Member
Elder Ballard in that same Conference address noted, "Quite frankly, what missionaries need now is more people to teach. Experience has shown that the best teaching situations develop when our members participate in the finding and teaching process. This is nothing new – you have heard it before."
An Example of the Savior Inviting Non-members to His Home
Elder Ballard also noted the following, "The Savior Himself showed us the way when He invited His disciples to 'come and see… where he dwelt, and (they) abode with him that day.' John 1:39. Why do you suppose he did that? The scriptural record does not explain His reasoning, but I am confident that it had nothing to do with comfort or convenience. As always, He was teaching. And what better way to teach His followers than to invite them with Him so they could see and experience his magnificent message first hand."
While the Savior did not use a Tour in the same fashion we do, the principle He outlined as he invited disciples to come with him to come and see where he dwelt illustrates precisely what we try to do with a Tour for our non-member acquaintances. Our "home" to which we invite our non-member acquaintances on a Tour is our ward or branch building, our spiritual home.
Our Love for the Lord should Motivate us to Commit to a Set-A-Date Challenge
In that same magnificent April General Conference address, Elder Ballard noted, "Our love for the Lord and appreciation for the Restoration of the Gospel are all the motivation we need to share what gives us much joy and happiness. It is the most natural thing in the world for us to do, and yet far too many of us are hesitant to share our testimony with others."
The Lord through inspiration to Elder Ballard and the other General Authorities has given us a mechanism by which we can invite our non-member acquaintances to see our Church, through the non-threatening method of inviting them to a Tour of our Church building. It truly is a non-threatening request that we make, and in no way could offend anybody.
Members Invited to "Relax" as They Serve as Member Missionaries
Some British Columbia members have mistakenly focused on one sentence in Elder Ballard's April Conference address, where he said, "Today I invite you to relax and set aside your concerns and focus instead on your love for the Lord." The "relax" has been lifted out of context by a few to mean that they can abandon any Set-A-Date program. We ask that these members read the entire talk to understand that Elder Ballard was simply urging that we abandon our anxieties about becoming member missionaries, and instead use our love and testimony and gratitude to the Lord to motivate us to become joyous Set-A-Date members and families. It works!
It is important to understand that when a member or a member family invites a non-member acquaintance to come with them on a Tour, and indeed comes with them on the Tour and is prepared to answer questions and bear testimony, they have done their part in the finding process. They have done all that our Father in Heaven has asked us as members to do. We quote further from Elder Ballard's talk, "A Gospel sharing home is not defined by whether or not people join the Church as a result of our contact with them. Our opportunity and responsibility are to care, to share, to testify, to invite, and to allow individuals to decide for themselves…at the very least, we have a rewarding relationship with someone from another faith and we can continue to enjoy their friendship."
Elder Ballard has magnificently summarized in his address the challenge and command which our Father in Heaven has given each of us as members to accomplish. We want to assure each of our great members that they will be blessed richly if they follow the counsel and advice of Elder Ballard and step up to the challenge given to them by their stake, district, ward and branch leaders to bring three non-member acquaintances per year to the Church through a Tour, or to another Church activity such as a President's Fireside or another event which could be coupled with a Tour.
This is the Lord's work. He has given us through His inspired leaders the methods by which we can accomplish our goal here on earth of proclaiming the Gospel, a challenge which is every bit as essential to our salvation as any other activity we are commanded to accomplish on earth.
That we might go forth boldly, filled with faith, to use the Set-A-Tour-Date program to accomplish our member missionary responsibility is our constant prayer.
We love you and love working with you in this, the Lord's work.
Canada
Vancouver
Mission
Newsletter
September 5, 2006
--President and Sister Middleton
Reminder: ask for a referral in every conversation with a member or non-member alike…."Will you bring an acquaintance on a Tour, and when?"
Remember our mission goal: 10 Gospel contacts per day per missionary outside our usual finding and teaching duties. That includes a Gospel message to everyone you see.
"The bishop is responsible for missionary, retention, and activation efforts in the ward. His personal participation and leadership are essential." PMG pg. 218
We urge our full-time missionaries to offer to help the bishop in any way they can to accomplish his responsibility for missionary work, retention and activation.
As weekly goals are set for each Key Indicator, pray for inspiration, and set goals that are lofty yet achievable. Our ultimate long-term goal is for at least 3 baptisms per companionship per transfer.
to read past messages.
---