Vancouver Mission Star
This message was written by President and Sister Middleton. It also appears in the Vancouver Star, the weekly newsletter of the Vancouver Mission. It is sent to each companionship throughout the mission.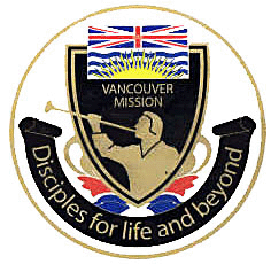 Canada
Vancouver
Mission
Newsletter
Septmeber 22, 2005
LESSONS LEARNED IN PROSELYTING
In May 2005 President and Sister Stewart were instructed by Elder M. Russell Ballard, Elder David Sorenson and Elder Melvin Perkins (our Area Authority) to implement in the Canada Vancouver Mission the same focus on missionary work which had been developed in the Washington Tacoma Mission. The Tacoma Mission leaders had found that by focusing on selected methods outlined in Preach My Gospel their success rate in finding, teaching and baptizing went up significantly. Those methods included:
Prime Time 5:00 to 9:00 p.m. This proved to be the best proselyting time possible, as usually both husband and wife are home to teach. The missionaries are asked not to have a meal during this time, but instead eat at other times in the day. Meals with members, given so generously in the past, can still be enjoyed with members at other times through the day. As an option, not an obligation, members can provide food to missionaries for use at their apartment.
"Soft" approach to investigators. Instead of starting the conversation with a contact with a discussion of doctrine, missionaries are to strive to know and bond with investigators before committing them to a Tour of the chapel or lesson on the Gospel (PMG page 157). Of course, a discussion of the Gospel is the ultimate objective.
Ward or Branch Tour, given by the missionaries. This approach is non-threatening, and is designed to be such a positive experience that even if the investigator chooses not to go on to baptism they will be left with a very positive impression of the Church. Each meeting room in the ward or branch is presented on the Tour, giving the role it plays in the life of each member, socially and in their family life as well as in giving instruction in the Gospel (PMG page 167). To acquaint members with the approach we have stressed member Tours, and have asked members to return with non-members to go on a subsequent Tour. Following the Tacoma model we initially tried to link tracting and a Tour, which is often useful, but are finding that the optimal use of a Tour is when a member brings an investigator and both member and investigator go on the Tour together. It makes a difference in Tour effectiveness whether the facility used for the Tour has been built by our Church or bought from another Church, as is true in some of our branches. Also, the distance an investigator must travel to go on the Tour matters in terms of whether a Tour or some other proselyting technique works best. A Tour given to a member by our missionaries serves two purposes: the missionaries improve their skills, and the members will view their ward or branch in a new spiritual light they may never have thought of before.
Member Referral Remains Our Most Effective Tool
At a recent Mission President Seminar in Seattle, Elder Ronald Rasband shared with us statistics developed when he was a Mission President in New York. He found the following:
The chances of an investigator progressing to baptism were:
a. 1 in 4000 if found by tracting or street contact.
b. 1 in 100 if found through a Media Referral.
c. 1 in 20 if referred by a member who declined to have their name mentioned to the investigator by the missionaries.
d. 1 in 15 if referred by a member who went with the missionaries to teach in the investigator's home.
e. 1 in 7 if member-referred and taught in the member's home.
Elder Rasband concluded, "A name from a member is equivalent to knocking on 1000 doors."
While we have not developed the statistics for the Canada Vancouver Mission, they are very similar to what Elder Rasband noted in New York.
The Results
The Tour/"soft"/Prime Time approach you have implemented so well is working. Baptisms through the end of August are 32% above that time last year, despite having 20 fewer missionaries to accomplish the work! While attributed in large part to the publication of "Preach My Gospel", the hard work of our excellent missionaries and the mission emphasis on those facets in PMG mentioned above, we feel that the mission acceleration is due also in large measure to a quickening of the spirit throughout British Columbia. The Lord is truly blessing us!
May we all be equal to His expectations by working hard, and "working smart". Utilize the tools given us in PMG, and the emphasis pioneered by Tacoma. That we all may work both hard and smart is our prayer. We love you all, and are humbled to be working with you in this great Canada Vancouver Mission.
--President and Sister Middleton
Remember our Mission Goal:
10 Gospel Contacts per day per missionary
outside our usual finding and teaching duties.
FROM THE ASSISTANTS
At this transfer time we would like you to know that we have all fasted and prayed over the transfer that is now taking place. There is no doubt in our minds that we are each placed in our specific areas for reasons that are probably past our understanding. This past transfer has been unique because we have had the chance to visit nearly every Elder in this mission, and we are proud to report that we feel that everyone is working hard and being obedient. As we have traveled and finished all the Zone Conferences we can't stress enough how important it is for all of us to comply with the rules. There is no doubt that happiness is linked with the amount of obedience put forth on the missionaries' efforts. The mission right now is simply on fire. Our numbers are the best they have been in several years. The best part about the whole thing is that we are accomplishing our goals with fewer missionaries. That simple statistic tells a lot about the quality of missionaries that we have in the field right now. We all should be proud of the work that we are doing in this area of the Lord's vineyard.
With love,
Elders Brough and Nemrow
Elders Young and Bailey
UPCOMING ZONE CONFERENCES
☀ September 29 – Vancouver/Language ☀ October 6 – Surrey/Abbotsford ☀ October 12 – Vernon
☀ October 14 – Prince George ☀ October 21 – Nanaimo/Victoria
NEW CONVERTS
❏ Abbotsford – Kyla Bysterveld, Virginia Houston, Joann Novak ❏ Nanaimo – Aime Beaumier, Malcolm Coffill, Stew Stowell, David Tancon ❏ Prince George – Gaylene Callihoo, Echo Hawkridge ❏ Surrey – Adil Bendachmane ❏ Vancouver – Justin Brietzke, Teerawat Luechachandej, Maureen, Raymond, and Sarah Matkin, Leona McVicker, Anna Romanova ❏ Vancouver Language – Nancy Avila, Ospina Gonzalez, Tom Jung, Louisa Zhang ❏ Vernon – Wyn Ward, Wade Williamson ❏ Victoria – Rose Rutt, Barb Smith, Emma Westbrook
REMINDERS
q Practice 10 minutes on the piano each day.
q Remember to clean up your apartments (cleanliness is next to Godliness).
q Get your converts to send a letter telling about their conversion or you write their conversion story and send it to President and Sister Middleton at the mission office.
...it is required of the Lord, at the
hand of every steward, to render
an account of his stewardship,
both in time and in eternity.
D & C 72:3
to read past messages.
---