Vancouver Mission Star
This message was written by President and Sister Middleton. It also appears in the Vancouver Star, the weekly newsletter of the Vancouver Mission. It is sent to each companionship throughout the mission.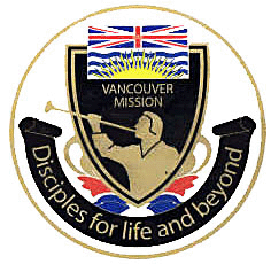 JUST SAY "HELLO"
Recently we spoke at a British Columbia ward regarding how important it will be for every ward member to commit to a 3-times yearly Set-A-Date for a Tour (or Set-A-Tour-Date) 2 to 3 weeks off, then prayerfully and faithfully proceed to ask as many acquaintances as it takes until one agrees to return with the member on a chapel Tour. We pointed out that the average-size British Columbia ward will obtain at least 30 baptisms yearly once all members are setting 3 Tour dates yearly!
Interestingly, at the end of Sacrament Meeting one of the sisters in the ward pulled us aside to make the disturbing observation that her ward members tended to not be friendly to visiting strangers, or to newly baptized members. She noted that a recently baptized single mother and her daughter came to Church for a while, but have since stopped coming because the girls in the ward of her daughter's age were not welcoming, and seemed to shun her daughter. With shock and sadness, we promised this good sister that we would do all in our power to see that this won't happen again, to do all that we can do to awaken each and every saint in British Columbia to the critical importance of being friendly towards everyone who comes into one of our churches.
Help New Members, Welcome Visitors
President Hinckley made an extremely important observation regarding those who have recently joined the Church when he said:
"…try to imagine what it is like. It can be terribly lonely. It can be disappointing. It can be frightening. We of this Church are far more different from the world than we are prone to think we are."
He then quotes a letter he received from a recent woman convert:
"When we as investigators become members of the Church, we are surprised to discover that we have entered into a completely foreign world, a world that has its own traditions, culture, and language… At first the trip is exciting, our mistakes are even amusing, then it becomes frustrating and eventually, the frustration turns into anger. And it's at these stages of frustration and anger that we leave. We go back to the world from which we came, where we knew who we were, where we contributed, and where we could speak the language." Preach My Gospel, pg. 214. Fortunately, in this woman's case the mission president intervened to ease her integration into the Church.
We must become a warm, friendly, inviting member of Jesus Christ's restored Church, a Church which has at the very core of its teachings a message of love and caring for one another. We all must work at it. To all who come we must learn to warmly say, "Hello! I want to become your friend. How can I help you?"
Always Welcome a New Face in Church, by Elder Henry Curry, (and Sister Evelyn Curry)
"Can you spot a new face in your ward or branch? If not, try to shake hands with everyone that comes to Church, but pay special attention to those that you do not recognize. Find out who they are, where they live and if they are members. Are they attending with a friend or relative? Be bold!
"I recently spotted a new face in the group of members moving through the hall. We introduced ourselves to each other and at first just made some small talk that would make him feel at ease. I then asked if he was a member and he said "no". He talked a bit about how he happened to come to Church that day and some of his life experiences. I listened as much as possible and let him do the talking. That seemed to make him more at ease. He told me that his brother had joined the Church a few years ago and he had attended a few times with him. Then his brother had moved away, so he knew very little about the Church. I asked if he would like to know what the LDS Church is all about. He indicated that he had been studying all faiths for the past 2 years, and for that reason, had come to our Church that day. We set a teaching appointment right then, and 2 months later he was baptized! Brother Garnet Mushka has been ordained a Priest and has fit right into the North Shore Ward."
Our urgent plea is that everyone who comes into one of our Church buildings is immediately greeted warmly and genuinely by full-time missionaries and members alike. If an investigator or less-active member doesn't feel instantly bathed with our love, it will be hard or impossible for them to recognize that our Church is based on the unconditional love that the Savior has for all of His children.
We love you, and love working with you.
Canada
Vancouver
Mission
Newsletter
September 26, 2006
--President and Sister Middleton
Reminder: Ask for a referral in every conversation with a member or non-member alike…
"Will you bring an acquaintance on a Tour, and when?"
Our goal is to find at least one new investigator each day.
Remember our mission goal: 10 Gospel contacts per day per missionary outside our usual finding and teaching duties. That includes a Gospel message to everyone you see.
"A man that hath friends must shew himself friendly: and there is a friend that sticketh closer than a brother." --Proverbs 18: 24
As weekly goals are set for each Key Indicator, pray for inspiration, and set goals that are lofty yet achievable. Our ultimate long-term goal is for at least 3 baptisms per companionship per transfer.
to read past messages.
---