Vancouver Mission Star
This message was written by President and Sister Middleton. It also appears in the Vancouver Star, the weekly newsletter of the Vancouver Mission. It is sent to each companionship throughout the mission.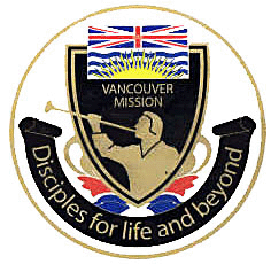 Canada
Vancouver
Mission
Newsletter
January 16, 2006
---
On Being Upbeat
One of the interesting observations we have made about missionaries is that the difference between those who succeed mightily and those who struggle is oftentimes very slight. Oftentimes we sense that the intrinsic abilities of those who are struggling are really greater than those who may have lesser ability but are succeeding admirably. In most cases the difference between the two seems to be one of attitude.
In his marvelous book, Success Is A Choice, by the highly successful University of Kentucky and now University of Louisville head basketball coach, Rick Pitino, the observation is made that being positive is a discipline. Rick Pitino notes, "We often can't help feeling crabby, but mood swings can be reversed. We can control our moods…A mood is simply a reflection of our attitude, and we can certainly change our attitude."
Pitino goes on to observe, "Unmotivated people generally see a huge division between their work and their play, their vocation and their avocation. Self-motivated people see little difference. They love what they do. They can't wait to get to work in the morning. They can't wait to get started. They're the ones who believe there aren't enough hours in the day to achieve the goals they're trying to reach." Pitino goes on to observe that being positive is a discipline, and he further observes that anyone can program themselves to be positive. He notes further that everyone likes being around positive, upbeat people. They feel lifted by them and they feed off their energy. "If you are positive about life and work other people will want you on their team; they'll want to work with you on projects; they'll want to include you at work and at other times."
We have observed the same thing in missionary work, where one highly positive and self-motivated missionary spreads infectiously those same attributes to those surrounding him or her. Pitino makes an observation among his basketball players which is also very true among missionaries, that, "If individual players start to spread positive vibes, the whole team will build that sense of self-esteem, and the attitude will change dramatically…And you know what? Good things start to happen."
Pitino goes on to note that if anyone is willing to put forth the effort and has the right plan of attack, (as Preach My Gospel offers), he or she can prepare themselves to face any tough challenge. He makes an interesting further observation, "And the more adversity you face, the more positive you have to be." Pitino goes on, "Positive people can take on the world."
Work Positively, With Faith, To Succeed
As missionaries we need to understand that our success in finding investigators who will listen to our message is not so much about our intrinsically God-given talents as it is about our desire to do our best, our very best. In Ecclesiastes we read, "The race is not to the swift, nor the battle to the strong." Eccl. 9: 11. In missionary work, as in life, winners are generally those who endure to the end. What tremendous and huge strength there is in commitment!
The Apostle Paul, when a prisoner in Rome, while Nero was the emperor, wrote, "God hath not given us the spirit of fear; but of power, and of love, and of a sound mind. Be not thou therefore ashamed of the testimony of our Lord." II Tim 1:7-8
So we see that the scriptures tell us how we can succeed as missionaries. Working with power, with love and with determination to have a positive spirit are the ingredients of missionary success. If we with full determination and with a positive outlook resolve to do our very best every day, to be up by 6:15, then to follow precisely the order of the day with 30 minutes of physical exercise, then personal study and companion study, followed by structured, focused productive missionary work, we will see success. Where doubt creeps in, where the adversary tells us that being negative is the smartest way to look at the difficulties of being a missionary, we will fail.
That we all might stride forth "boldly, nobly and independent" as the Prophet Joseph Smith implored, and with the surety that the Lord is on our side, is our constant prayer for each and every one of our missionaries.
--President and Sister Middleton
Remember our mission goal: 10 Gospel contacts per day per missionary
outside our usual finding and teaching duties.
"Let not your heart be troubled, neither let it be afraid." John 14: 27
Reminder:
We are all praying for three baptisms per companionship per transfer!
to read past messages.