Vancouver Mission Star
This message was written by President and Sister Middleton. It also appears in the Vancouver Star, the weekly newsletter of the Vancouver Mission. It is sent to each companionship throughout the mission.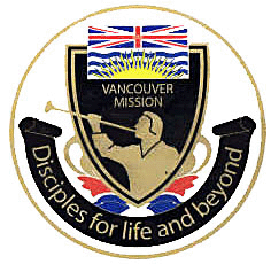 Canada
Vancouver
Mission
Newsletter
August 15 2005
Faith: Our Only Hope
The title of this month's STAR is taken from President Hinckley's marvelous book "Standing for Something". It is the heading for Chapter 10 in his book, and summarizes well what drives us missionaries.
"Great buildings were never constructed on uncertain foundations. Vacillating leaders never brought great causes to success. Faith has always been, and always will be, at the root of any meaningful practice and endeavor." Thus wrote President Hinckley. He goes on to note that he speaks of a "practical, pragmatic, working faith – the kind of faith that moves us to get on our knees and plead with the lord for guidance, get on our feet and go to work to help bring the desired results to pass…. There is no obstacle too great, no challenge too difficult, if we have faith."
Those thoughts describe precisely what we must do to succeed as missionaries. Seeking for and obtaining that faith described by President Hinckley will be our secret to success.
WORK WITH MEMBERS
To reiterate what Elder Rasband noted, "a member referral is the equivalent to knocking on 1000 doors". The Canada Vancouver Mission is no different. Our greatest source for baptisms lies with our members. Our missionaries are working hard already, and our urgent advice to all our missionaries is to concentrate on methods designed to have members bring to us their non-member friends or relatives so that we can teach them about the Church.
Ward/Branch Tours accomplishes that goal. A good Tour given to a member should accomplish the following:
1. The member will gain confidence in you as a missionary and companionship.
2. The member helps you refine your Tours, giving you greater skills.
3. The member finds that the Tour is not threatening to any non-member they might bring.
4. It reminds the member that missionary work is the duty of every faithful Church member.
Please commit every member who goes on a Tour to come back with a non-member for a subsequent Tour. Put them in your planner and call them weekly as a reminder until they do. Remind them of the Abbotsford Stake goal of having every family bring three non-members per year on a Tour.
MEET WITH YOUR BISHOP OR BRANCH PRESIDENT
If you haven't done so, please set up a meeting with your bishop or branch president. In that meeting you want to assure him that our goal is to make his work easier by visiting his inactive or less-actives (one of his ward or branch leadership duties), and can report about them at each PEC and Ward Council meeting. Volunteer to home or visit teach less-actives. Include the names of less-actives on the Progress Sheet you prepare and copy for each PEC and Ward Council meeting, and discuss their needs during your time on the agenda. As Preach My Gospel notes, and we in BC have found, less-actives are extraordinarily good sources for finding non-members who can be taught and baptized, and we need to focus our energies on them.
That we all might work both hard and smart is our constant prayer. We love each of you and pray multiple times daily for your safety and success.
--President and Sister Middleton
Remember our mission goal: 10 Gospel contacts per day per missionary
outside our usual finding and teaching duties.
"And whoso receiveth you, there I will be also, for I will go before your face. I will be on your right hand and on your left, and my Spirit shall be in your hearts, and mine angels round about you, to bear you up." D & C 84: 88
Reminder:
We are all praying for three baptisms per companionship per transfer!
to read past messages.
---