Vancouver Mission Star
This message was written by President and Sister Middleton. It also appears in the Vancouver Star, the weekly newsletter of the Vancouver Mission. It is sent to each companionship throughout the mission.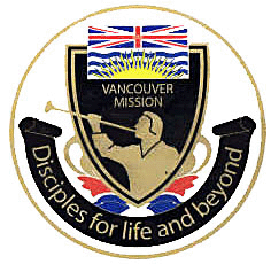 Canada
Vancouver
Mission
Newsletter
October 17, 2005
Bishop John Russell of Nanaimo Issues Challenge
Sister Middleton and I met with Bishop John Russell on Sunday, October 5, 2005 after we had spoken at the Nanaimo Ward. Our subject, not too surprisingly, was missionary work, and our implementing the "Preach My Gospel" Tour and Prime Time system. Bishop Russell has surveyed the needs of his quite strong Nanaimo Ward, and has concluded that his average attendance on any Sunday is about 150. His goal in the time he serves as Bishop, which probably will be 4 ˝ to 5 years, is to double the attendance!
In a marvelous conversation we offered the services of our missionaries to help him achieve that laudable goal. We have suggested accomplishing that doubling of attendance by the following:
Have our missionaries visit the less-actives. Many of them simply need a little nudge to come back into full activity. Additionally, our missionaries throughout British Columbia are finding a number of non-members in the households of less-actives. They already know much about the Gospel, and are already prepared to be taught. Many of our baptisms are coming from lesser-active families as a result.
Have Nanaimo Ward members accept our challenge of bringing three non-members per year to the attention of the missionaries to a Tour or other methods for allowing our missionaries to teach them. The Tours are designed to be non-threatening, and we feel that any member would feel comfortable bringing non-members over to meet with the missionaries. In some parts of BC one out of every three people who go on a Tour go on to be baptized.
Coordinate carefully to have our missionaries present throughout PEC and Ward Council meetings. Clearly much comes up that would involve the thrust of the ward in trying to reactivate, which the missionaries need to know in order to perform their tasks appropriately.
We are so excited by the challenge and goals set by Bishop Russell. We are hopeful that every bishop and branch president throughout British Columbia will take Bishop Russell's goal as a challenge, to see if they can meet or beat his objectives within their own ward or branch.
What an exciting time to be part of the missionary effort in the Canada Vancouver Mission! That our Father in Heaven will help all of us to succeed in this His noble missionary work is our prayer.
--President and Sister Middleton
Remember our mission goal: 10 Gospel contacts per day per missionary
outside our usual finding and teaching duties.
"And whoso receiveth you, there I will be also, for I will go before your face. I will be on your right hand and on your left, and my Spirit shall be in your hearts, and mine angels round about you, to bear you up." D & C 84: 88
Reminder:
We are all praying for three baptisms per companionship per transfer!
to read past messages.
---