Vancouver Mission Star
This message was written by President and Sister Middleton. It also appears in the Vancouver Star, the weekly newsletter of the Vancouver Mission. It is sent to each companionship throughout the mission.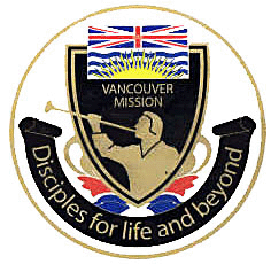 Canada
Vancouver
Mission
Newsletter
October 24, 2006
EXPERIENCE WITH CHAPEL TOURS
The Tour of the ward or branch building remains the best method to present the Gospel to an investigator in British Columbia. In making that all-important first impression for an investigator, a member brings a non-member acquaintance to the Church for a Tour and thereby starts the fellowshipping process. It also allows the missionaries to present the Restoration Lesson as they walk through the building with their recitation of Joseph Smith's description of the First Vision invariably bringing the Spirit to the meeting when given well. A Tour also gives the investigator a look at our buildings, which are magnificent, and as our missionaries describe the various priesthood and auxiliary rooms they explain the advantages we enjoy as members in learning how to cope with the many challenges to families and individuals posed by our modern society. A few accounts of how the Tour is working follow.
Asking Abbotsford Acquaintances to a Tour is not Hard, by Elders Alexander Bitting (and James Powell)
"I want to share an awesome experience we had with a sister of our ward, the Abbotsford 1st Ward, Sister Gloria Murley. Sister Murley had always been terrified to share the Gospel and invite people to hear the message of the Restoration. We visited the Murleys a couple of weeks ago and shared a 'PMG Tour' with the family and they loved it! The Spirit was so strong as Elder Powell and I shared our testimonies of the blessings of a gospel-sharing home. However, Sister Murley wasn't too keen on inviting people on a Tour and really didn't see the effectiveness of it!
"The next day we had a message from Sister Murley that really took us by surprise. As she was preparing her primary lesson she came across a scripture in 2 Kings 5: 12-13, which relates the story of Elisha the Prophet and Naaman. Naaman had been sickened with leprosy and inquired of the prophet as to how he might be healed. Elisha sent a servant to Naaman to tell him to wash himself in the river Jordan seven times and he would be healed, but Naaman was wroth because the prophet himself had not come. The servant said unto him (v. 13) 'If the prophet had bid thee do some great thing, wouldest thou not have done it?' Basically it was a simple thing that he was asked to do and he should exercise faith and not murmur. When Sister Murley read this she knew that President Christensen had asked the entire stake to each bring 3 non-members on a Tour. It isn't a difficult thing that he asks…we should just do it without murmuring! So within a week Sister Murley invited 34 people on a Tour and 7 people came! Out of those 7 people (all non-members), one was very touched and will soon be investigating the Church. It was remarkable!"
Coupling a Family History Fair with Chapel Tours in the Kelowna First Ward, by Sisters Coleen Murray (and Kristjana Bardardottir)
"Our ward hosted a huge Genealogical Fair in our building. A large crowd enjoyed a dinner and a speaker, and all attendees were invited to come Tour our building and Family History Center before the program started. We were available as soon as people registered and offered them a Tour. Most everyone said 'Yes!'
"It was a great experience, and with all the missionaries working we had several Tours going at the same time. In a thank-you card given to us by the ward member (Phyllis Thompson) who organized the event, she stated, 'Close to 100 people attended the Family History International Dinner. Nearly half of those took a building Tour and many of those commented the next day how impressed they were with our missionaries and with the values of our religion (including a couple of devout Baptists)'."
Members Feel the Spirit through The Set-A-Tour-Date Program in the Langley Ward, by Elders Benjamin Zuniga (and Joshua Binks)
"After President Paul Christensen spoke to the congregation this past Sunday we have been setting more Tour dates in a one-on-one basis with the Langley Ward members. As the members begin to do missionary work out of love for the Savior and not for other reasons, such as out of necessity to reach a numeric goal, that's when the work will 'explode'. So we want them to strive for at least 3 Tours per year so members can feel the Spirit and desire to do this work with enthusiasm. They then can rejoice in the work as we do.
"We have seen the Tour have a good effect on the less-actives. We had a good Tour with Sister Pauline Sowinsk a little while back, and she has since returned to Church a number of times and loves the people. Tours work!"
Editor's Note: We urge every companionship to aim toward at least 3 Tours weekly. Help members use the Set-A-Tour-Date to achieve their personal goal of 3 referrals of acquaintances per year. That we all might utilize the Tour boldly is our constant prayer.
We love you, and love working with you.
--President and Sister Middleton
UPCOMING ZONE CONFERENCES FOR OCTOBER-NOVEMBER
Oct 11 – Van/Van Lang; Oct 19 – Surry/Sur Lang/Abbots; Oct 26 – Nanaimo/Victoria
Nov 1 – Vernon; Nov 3 – Pr George
Reminder: Ask for a referral in every conversation with a member or non-member alike…
"Will you bring an acquaintance on a Tour, and when?"
Our goal is to find at least one new investigator each day.
Remember our mission goal: 10 Gospel contacts per day per missionary outside our usual finding and teaching duties. That includes a Gospel message to everyone you see.
"Be not afraid; only believe." Mark 5:36
As weekly goals are set for each Key Indicator, pray for inspiration, and set goals that are lofty yet achievable. Our ultimate long-term goal is for at least 3 baptisms per companionship per transfer.
to read past messages.
---