Vancouver Mission Star
This message was written by President and Sister Middleton. It also appears in the Vancouver Star, the weekly newsletter of the Vancouver Mission. It is sent to each companionship throughout the mission.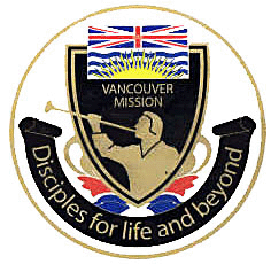 Canada
Vancouver
Mission
Newsletter
October 31, 2006
ELDER RASBAND VISITS THE MISSION
We were very pleased to have Elder Ronald A. Rasband visit the Canada Vancouver Mission on October 13 and 14, 2006. On the evening of October 13 a combined Coordinating Council and Area Authority Seventy meeting was held at a dinner in the Langley Ward. We were inspired as we heard from Elder Rasband, as he gave a description and preliminary sketch of the upcoming temple. Elder Rasband spoke regarding the importance of the temple in missionary work, and as the ground is broken and publicity is spread, and as Tours are taken through the temple prior to its dedication, its importance to missionary work will become increasingly evident.
Elder Rasband Speaks to the Lower Mainland Missionaries
Elder Rasband stayed overnight and spoke to the Lower Mainland missionaries as well as the Area Authority Seventies in the Langley chapel on October 14. Unfortunately, all of our Zones could not hear Elder Rasband's remarks, and we will hopefully touch the highlights herein.
Elder Rasband called on Elder G. Perrin Walker, an Area Authority Seventy, to speak. Speaking as a former French mission president, Elder Walker gave magnificent insight into missionary work. He had told his missionaries in France, who suffered from low productivity prior to his coming, that "The field isn't brown ready to dig, but it is white and ready to harvest." By refocusing his missionaries with that thought, as well as having the missionaries focus on working hard and effectively, their productivity increased dramatically and the Lord blessed them.
President Paul Christensen, the Abbotsford Stake President, was asked to address the group, and he gave a powerful address regarding the coming of the temple and urged the missionaries to step outside their comfort zone and go forward with faith.
Elder Rasband Answers Missionary Questions
Elder Rasband started his address by soliciting questions from the missionaries, a few of which we summarize. He pointed out that there is a spiritual preparation that must be made for the upcoming temple, and we as missionaries are an important factor in that preparation. In fact, we are here under the decree of the Prophet to prepare British Columbia for a temple, and we are here to prepare members and non-members alike.
A question was asked as to how we can lose ourselves in the work. Elder Rasband pointed to the advice given to President Hinckley while starting his mission as a young man, when he wrote home to his father complaining that he wasn't accomplishing much and he thought he ought to come home. His father replied in a letter, "Forget yourself and go to work." Elder Rasband noted that advice serves well for every missionary here, and Elder Rasband went on to admonish missionaries to forget about "your pickup truck, your girlfriend, etc. The righteous things will be there when you return from the mission." He also quoted the important scripture in Alma 38:12, "Use boldness, but not overbearance; and also see that ye bridle your passions that ye may be filled with love; see that ye refrain from idleness." He urged that if inappropriate CD's or pictures were brought from home or sent from home, then, "get rid of them."
A question was asked as to how to evenly divide duties within a companionship. Elder Rasband commented that both missionaries have been set apart to do the work, and he quoted from John 3:30 where it was pointed out at the baptism of Christ, "He must increase, I must decrease." That important admonition must guide our relations with our companion in that our goal must be to see that he or she increases during each transfer. He went on to observe that even if a senior companion thinks that a junior companion will not give his or her portion of the lesson well that we should let them proceed and allow the opportunity for the Spirit to work. He urged that each companion be given equal parts in teaching.
There are Thousands of the Lord's Elect Already Prepared in British Columbia
Another question was raised as to how we maintain a sense of urgency. Elder Rasband noted that the temple is coming, and there is urgency in preparing people to go to the temple. He noted also that there are thousands of people prepared by the Lord already in British Columbia that they are the Lord's elect, "and ye are called to bring to pass the gathering of mine elect; for mine elect hear my voice and harden not their hearts" (D & C 29:7). He noted that those people are already prepared, and they will hear His voice and harden not their hearts. They are, "only kept from the truth because they know not where to find it" (D & C 123:12).
He went on to point out that people are trained by society to say "no," but we must be persistent. There are ways to break down barriers by sharing a thought, by singing a song, by using another approach. For example, a missionary might say, "Before we go may we share a thought with you?…. a song with you?….Let me show you a picture of the family I left behind to come on this mission." Elder Rasband noted that the elect don't wear white nametags. With the help of the members we can find the elect, and members already know those elect but don't yet know which of their many non-member acquaintances are already prepared by the Lord and are His elect.
Another question was asked as to how to ask for referrals in every conversation with people we see several times each week. The question was a good one, and Elder Rasband started by urging that we not use the S.T.P. (same ten people). He urged that we spread our net broader, throughout the ward or branch. He also asked that we ask for a name, "not just a referral." He urged that we interact with members and non-members alike to be creative, to focus on life changing events, such as recent deaths, births, moving, etc. "Do you know anyone who has moved into your neighborhood recently? May we use your name? How would you like to go with us to visit them? How about you inviting them to come over and we'll share a message with them." He pointed out that every time we involve a member, our effectiveness as missionaries will increase.
Picture Your Investigator in White
Elder Rasband concluded by focusing once more on temples. He quoted from D & C 109 where the Kirtland Temple dedicatory prayer is given. He urged that we picture in our mind as missionaries that we are going forth to find someone to kneel at the altar in the temple. While that person will be dressed in white when they are baptized, "picture in your mind the second time they will be dressed in white--in the temple."
His final thought was that if we forget ourselves and go to work with members the Lord will bless us. "He knows His elect by name."
We are so proud of the excellent, well thought-through questions that the missionaries asked Elder Rasband. They prompted thoroughly inspiring responses. Hopefully we have shared in this Vancouver Star with all of our missionaries the essence of Elder Rasband's inspiring comments, and we are so grateful to him for joining with us.
We love each of you and love working with you in beautiful British Columbia. We are all inspired and energized by what we need to do to prepare for the upcoming temple.
--President and Sister Middleton
UPCOMING ZONE CONFERENCES FOR NOVEMBER
Nov 1 – Vernon; Nov 3 – Pr George
Reminder: Ask for a referral in every conversation with a member or non-member alike…
"Will you bring an acquaintance on a Tour, and when?"
Challenge members to Set-A-Date for a Tour or a Church event, which can be coupled with a Tour at least 3 times yearly.
Our goal is to find at least one new investigator each day.
Remember our mission goal: 10 Gospel contacts per day per missionary outside our usual finding and teaching duties. That includes a Gospel message to everyone you see.
"I, the Lord, am bound when you do what I say; but when ye do not what I say ye have no promise." --D & C 82:10
As weekly goals are set for each Key Indicator, pray for inspiration, and set goals that are lofty yet achievable. Our ultimate long-term goal is for at least 3 baptisms per companionship per transfer.
to read past messages.
---