Vancouver Mission Star
This message was written by President and Sister Middleton. It also appears in the Vancouver Star, the weekly newsletter of the Vancouver Mission. It is sent to each companionship throughout the mission.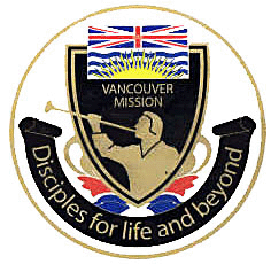 Canada
Vancouver
Mission
Newsletter
November
15, 2006
FOUR HOURS OF SERVICE WEEKLY TO FIND
President Paul Christensen, President of the Abbotsford Stake, has made the excellent suggestion that we clarify the use of missionary community service in the Canada Vancouver Mission. The Brethren have requested that all full-time missionaries give four hours of community service weekly. The Missionary Handbook points out that we should be constantly looking for opportunities to serve all with whom we come in contact, including our companion, investigators, Church members and everyone else. Much of the time this service will be in the form of a spontaneous, unplanned act. "When ye are in the service of your fellow beings, ye are only in the service of your God" (Mosiah 2:17). In addition, missionaries world-wide are asked to perform four hours of community service weekly. PMG notes, "Through service, you and those who are prepared for the restored gospel come together in a powerful, inspiring way. Your good works will help people recognize you as a servant of God and will lead to opportunities to teach the restored gospel" (PMG, pg. 168).
We are asking each companionship to evaluate carefully the weekly service project in which you serve. The Handbook notes that we should "limit planned service activities to daytime hours on days other than weekends, holidays, or preparation days. Stay with your companion…, do not put your health or safety at risk, create a legal liability…, or put you in an inappropriate situation…, and not in such places as schools or day care centers" (Missionary Handbook, pgs. 39-40). It also notes that our service "should not replace the efforts of priesthood quorums and auxiliaries, especially in meeting the needs of members" (ibid. pg. 40).
Choose Community Service Projects Which Allow You to Proselyte
Most importantly, during service we must "look for teaching opportunities that arise from your service" (ibid. pg. 40). In other words, every community service project should be done with an eye toward proselyting. Some projects of which we are aware have been dead end as far as teaching the gospel, and we have recommended switching to another more promising service activity. As part of your service, always preach the gospel. PMG teaches us to "pray for the ability to see unplanned opportunities to serve and teach" (PMG, pg. 156). We serve, as did the Lord, that we might teach, both by example and word. While occasionally service will be rendered without you giving a missionary message, a gospel message coupled with an invitation for a Tour or other Church activity should normally be a part of each service rendered. Always remember that we are missionaries, and as such we should invite everyone with whom we have contact in any setting. Remember too our goal to ask for a referral name in every conversation. Bear your testimony! Let everyone you meet hear from your lips that you know this Church is true!
Tours are Successful in North Vancouver, by Elders Scott Marianno (and Kelby Godfrey)
"The Church Tour Program is finding success in North Vancouver. The North Shore Ward currently has 15 Tours set up in accordance with Elder Ballard's Set-A-Date Program. We recently gave a Tour to a non-member visiting from Las Vegas. She is married to a less-active member who invited her to attend Church while she was in Canada. The Tour sparked her interest in the Church as well as introduced her to the message of the Restoration. The Spirit was strong as we testified of the truthfulness of the First Vision in the chapel. She now has a baptismal date set for later this month. We attribute her success to the Tour, which enabled her to become familiar with the Church before Sunday services as well as the member support system that was immediately built in when two members came along on the Tour with her. The Tour Program works!
"The Tour Program works well for less-actives as well. Elder David A. Bednar in his recent Conference address has invited all members to extend an invitation to a less-active member to come back into fellowship with the Church. The Church Tour Program is an excellent tool in rekindling the fire that may have been lost in inactivity. We recently gave a Tour to a less-active member who had years before been baptized in the North Shore Chapel. After refreshing his memory on the wonderful teachings and programs of the Church, showing him the exact place where he covenanted to always remember Jesus Christ and to keep His commandments, we shared the familiar message of The Restoration. His response after our testimonies was 'What Can I do to come back?' The Tours can help rekindle that testimony that may have been smothered by some perceived member offense or addiction. It is ultimately their choice whether or not to come back, and some may not even after a strong witness of the Spirit. However, we can extend an arm out and invite those who have left the fold to no longer cut themselves off from the blessings of the Restored Gospel by inviting them on a Tour."
We Strive to Invite at Least One Investigator to Set a Baptismal Date Each Day, by Elders Donald Fewkes (and Taylor Zmoos)
"The Richmond Ward is great with lots of work waiting for us. We were recently able to help an investigator commit to baptism on the 30th of November. She insisted on it being that far away because it is her daughter's birthday. I feel like the practice of 'baptismal invites' that we do every day is a great help. By looking to extend a baptismal invitation daily, we become comfortable committing people, and we are now striving to obtain a baptismal date commitment daily, using either the 'soft' or 'hard' commitment questions outlined on page 40 in PMG. We now have the goal of at least once daily asking someone to be baptized. Now we focus on the idea constantly that while we are here to teach the gospel, we also are here to baptize the Lord's children. Since focusing on it, our baptismal invites have skyrocketed, and we expect markedly increased success."
Editor's note: Elders Fewkes and Zmoos have established an excellent companionship goal of extending at least one invitation to be baptized daily. We have asked every companionship in B.C. to strive towards at least one baptismal invite weekly; one daily takes the challenge to a wonderful new level, and if in your companionship one baptismal invite daily is a feasible goal, by all means set it, in faith. In fact, we are asking that a baptismal invitation be given at the end of each first lesson, the Restoration Lesson, either the "soft" invitation, or, if the Spirit suggests that it is appropriate, make a "hard" baptismal invitation for a specific date.
We love each of you and love working with you. Our prayers are constantly given for your well-being and success.
--President and Sister Middleton
FROM THE ASSISTANTS—ELDERS J. DAVIS & BAKOW
"For behold, this is my WORK and my glory—to bring to pass the immortality and eternal life of man" (Moses 1:39). Hard work is the key to success. We love you all.
LOST & FOUND
There was a man's wrist watch left in Richmond during a P-day activity earlier this summer. Call Sis. Molyneux and identify.
WELCOME NEW MISSIONARIES
Elders: William Hatton (Winnipeg, MB); Matthew Klekas (South Jordan, UT); Justin McAllister (Sandy, UT); Kyle Shaw (McKinney, TX)
Sister: Brigitte D'Amours (Fauquier, ON)
Welcome to Beautiful British Columbia!
NEW CONVERTS
Abbotsford: Jennifer Campbell, Robert Goddard
Nanaimo: Scotty Forster
Surrey: Michael Woollends
Surrey Language: Edna Ospina Pedraza
Vancouver: John Bohonis, Tracy May, David Ojulu
Vancouver Language: Tao (Ruby) Jiang, Peng (James) Wang
Vernon: Miranda Kuss, Gladys Richards, Roger Spahan-Charlie
Victoria: Jason Guest
FAREWELL TO THE FOLLOWING
Elder Robert N. Gerber
Pres. Marion G. Romney said, "Service is not something we endure on this earth so we can earn the right to live in the Celestial Kingdom. Service is the very fiber of which an exalted life in the Celestial Kingdom is made." What greater service is there than to preach the Gospel of Jesus Christ to our brothers and sisters here in British Columbia. God bless all the missionaries in this mission as they serve in this great mission.
Sister Venna R. Gerber
I truly believe 1 Ne 3:7. Also, I hope you all will go and do as you teach! Jesus taught this way. Set an example to all you come in contact. Pray often and with a sincere heart. May God bless you all!
Sister Jen Grimm
This has been an awesome experience! I have absolutely loved serving with every one of you. We have the best boss in this line of work… live it up! I know the Lord loves each and everyone of us. (1 Ne 21:16) He rejoices in the service rendered to build His kingdom here on the earth. I love you all so much!
Elder Corban Lindsay
There is no better joy than preaching the Gospel. I wish, along with Alma, that I could be an angel proclaiming this Gospel on the roof tops. Of course, I should be content with the things that I have been given and the time that I had. This Church is true; Jesus is the Christ; and Joseph Smith is His prophet. I love all of you and keep working hard.
Elder Gary Lyman
One cannot hide their true character. It shows in everything they do and say. Let us decide who we are, so like the Apostle Paul, we can say, "I am now ready…, and the time of my departure is at hand. I have fought a good fight, I have finished my course, I have kept the faith" (2 Tim 4:7). With all my love, your brother in the Gospel. Peace out.
Elder Joseph Pettersson
Remember, there is no better title in the whole entire world than to be called a "disciple of Jesus Christ!" Always try to build each other up. We are on the same team!
UPCOMING ZONE CONFERENCES FOR NOVEMBER/DECEMBER
Nov 28 – Van/Van Lang Nov 30 – Surrey/Sur Lang/Abbots Dec 7 – Nanaimo/Victoria Dec 13 – Vernon Dec 15 – Pr George
Reminder: Ask for a referral in every conversation with a member or non-member alike…
"Will you bring an acquaintance on a Tour, and when?"
Challenge members to Set-A-Date for a Tour or a Church event, which can be coupled with a Tour at least 3 times yearly.
Our goal is to find at least one new investigator each day.
Remember our mission goal: 10 Gospel contacts per day per missionary outside our usual finding and teaching duties. That includes a Gospel message to everyone you see.
"Wherefore, now let every man learn his duty, and to act in the office in which he is appointed, in all diligence" --D&C 72:3
As weekly goals are set for each Key Indicator, pray for inspiration, and set goals that are lofty yet achievable. Our ultimate long-term goal is for at least 3 baptisms per companionship per transfer.
to read past messages.
---