Vancouver Mission Star
This message was written by President and Sister Middleton. It also appears in the Vancouver Star, the weekly newsletter of the Vancouver Mission. It is sent to each companionship throughout the mission.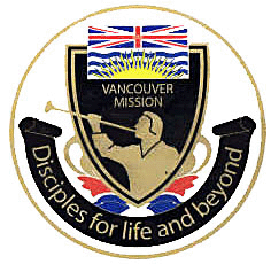 Canada
Vancouver
Mission
Newsletter
November
7, 2006
FULL-TIME MISSIONARIES' GOAL: HELP THE WARD MISSION PLAN SUCCEED
Nearly every ward and branch in British Columbia has now written their own Mission Plan, as Preach My Gospel has counseled. Those Mission Plans have been inspired by the Lord and have been distributed to the ward or branch members. Each Plan is unique to its ward or branch, and each addresses the unique needs of that particular ward or branch. Each Plan generally incorporates the stake or district-wide guidelines, which were developed in an inspired fashion by the stake and district leaders. Each stake and district has developed simple guidelines for their members, which have been incorporated for the most part into each ward and branch Mission Plan. Those stake and district guidelines call for each member or member family to bring 3 non-member friends or acquaintances per year (4 per year in the Vancouver Stake) to the Church for a Tour or to some ward or branch activity or event at which the investigator can be introduced to the Church through a Tour. Beyond that each Plan differs, with additional challenges that are unique to the ward or branch.
We counsel each of our missionary companionships to meet at least weekly with the bishop or branch president to discuss the weekly Key Indicators, which are e-mailed to each bishop and branch president. During that meeting and all other meetings with local leaders let it be known that full-time missionaries have as their major goal to help the ward or branch Mission Plan succeed. The bishops and branch presidents are in charge of missionary work in their ward or branch and have been instructed by the Brethren that missionary work within their ward or branch is now their number 2 priority, as noted below.
PRIORITIZATION OF BISHOP'S AND BRANCH PRESIDENT'S RESPONSIBILITIES
By way of reminder we mention that as part of the Canada Vancouver Mission Coordinating Council Meeting of October 16, 2005, which was presided over by Elder Mel Perkins, our Area Seventy Authority, a very important point was made to the assembled Stake Presidents, Mission President and Temple President. It was pointed out that the Brethren had done a survey of various bishops in the Church. They listed 6 areas of bishop responsibility and asked the bishops to prioritize them in order of importance. Their survey answers appear in the graph below in the column on the left. The Brethren then gave the inspired counsel that bishops throughout the world were to reorder their priorities, and instead of having missionary oversight of their ward or branch coming in sixth out of six areas of responsibility, it should be second, with the only priority more important to them being that of President of the Aaronic Priesthood, as noted in the second column.
| | | |
| --- | --- | --- |
| 6 Areas of Responsibility of Bishops | Bishop Survey Prioritization of each Responsibility | Prioritization Asked by the Brethren |
| Presiding High Priest | 1 | 6 |
| Common Judge | 2 | 3 |
| Welfare | 3 | 4 |
| President of Aaronic Priesthood | 4 | 1 |
| Finances/Records | 5 | 5 |
| Missionary Focus in the Ward | 6 | 2 |
Clearly the oversight of the missionary effort within the ward or branch has to become a very high priority item for every bishop and branch president.
Our full-time missionaries have as their primary goal in working with each ward and branch to help the bishop and branch president in their important responsibility of missionary oversight. As such, the full-time missionaries are there to facilitate, not to take over the ward's missionary program and not to work independently of the Ward Mission Plan, which has been developed under inspired guidance by the bishop or branch president and the other leaders through the ward or branch. That important concept must be embraced by our full-time missionaries as well as by each set of ward or branch leaders before the work will go forward as rapidly as the Lord would have it.
The Entire Victoria First Ward High Priest's Quorum Sets-A-Date for a Tour, By Sisters Brittany Dow (and Dionne Oliver)
"This Sunday was wonderful! The Ward Mission Plan is being written by the Victoria First Ward leaders, and we expect to have it in about 2 weeks. Sister Oliver and I both spoke in Sacrament Meeting and aimed at motivating the members. We were invited into the High Priests' class after, and we had every single one of them Set-A-Date. We have 6 Tours scheduled for this week alone. The members are really getting on board here and we love it."
Bishop Meek Leads the Nechako Ward in Missionary Work, By Elders Andrew Bristow (and Jose Guerrero)
"We took Bishop Ron Meek, bishop of the Nechako Ward in Prince George, with us to a teaching appointment with our investigator. We had a very spiritual lesson and it was great to have Bishop Meek with us. This fast Sunday Bishop Meek stood up in Sacrament Meeting and talked about the lesson we gave. He explained to the congregation 'You can trust these missionaries…. They teach with the Spirit.' He later bore testimony of missionary work saying, 'It's the responsibility of every member to do missionary work,' and then he held up the Ward Mission Plan and asked, 'Have we been doing our missionary work?' Bishop Meek also explained that he and his wife have brought 9 people on Tours so far this year! He then looked at everyone and said, 'Everyone should book a Tour with the missionaries and feel the powerful Spirit on the Tours.' Bishop Meek is an amazing leader and has set a great example for the ward in doing missionary work.
"It is my hope and prayer that all missionaries understand the importance of gaining the trust of the bishop. Even if it's one short exchange with the bishop, or even an appointment in his home, TEACH! Let him feel the powerful Spirit that a full-time servant of the Lord carries. Build their trust. If you gain the trust of the bishop, you can easily gain the trust of the ward."
We love you, and love the members with whom you work to find missionary success.
--President and Sister Middleton
Reminder: Ask for a referral in every conversation with a member or non-member alike…
"Will you bring an acquaintance on a Tour, and when?"
Challenge members to Set-A-Date for a Tour or a Church event, which can be coupled with a Tour at least 3 times yearly.
Our goal is to find at least one new investigator each day.
Remember our mission goal: 10 Gospel contacts per day per missionary outside our usual finding and teaching duties. That includes a Gospel message to everyone you see.
"And whatsoever ye do, do it heartily, as to the Lord, and not unto man" --Col 3: 23
As weekly goals are set for each Key Indicator, pray for inspiration, and set goals that are lofty yet achievable. Our ultimate long-term goal is for at least 3 baptisms per companionship per transfer.
to read past messages.
---