Vancouver Mission Star
This message was written by President and Sister Middleton. It also appears in the Vancouver Star, the weekly newsletter of the Vancouver Mission. It is sent to each companionship throughout the mission.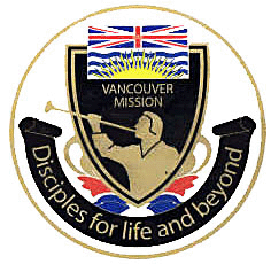 Canada
Vancouver
Mission
Newsletter
November
28, 2006
ELDER SPENCER J. CONDIE SHARES A GREAT NEW MEMBER FELLOWSHIPPING IDEA
We recently learned of a great system to integrate new members into the Church from Elder Spencer J. Condie, who is a First Quorum of the Seventy member and valued friend and mentor now serving as the New Zealand/Pacific Island Area President. He shared with us an idea for rapidly and effectively fellowshipping new members into the Church which was developed in one of the wards he oversees. That ward assigns four different member families to have the new member(s) over to their home for Family Home Evening and dinner on four consecutive Monday evenings. Over their first month, therefore, a new member becomes a close friend with four different families in the ward, and fellowshipping and integration of the new member into the Church is aided and accelerated immensely. If this system from "down under" would work in wards or branches here in B.C., we would urge that you adopt it, and we thank Elder Condie for sharing the idea with us.
Hard Work Brings Blessings
The definite correlation between hard work and missionary success is clearly evident in the Key Indicators Reports received each week. Whereas six of our nine zones averaged 15 or more "full" lessons per companionship in the week ending Nov. 12, the Vernon Zone reported 20 average full lessons, and had two companionships reach 31 full lessons each! (Congratulations to Elders Callin Morrill, Abram Howard, Trenton Amann and Andrew Johnson for achieving that number.) As a result of that work output the Lord blessed the Vernon Zone with 11 investigators with a baptismal date by the week ending Nov. 19, and despite the disruptions of it being Transfer Week, the Vernon Zone even averaged 15.1 full lessons that week. Clearly hard work brings blessings!
President Hinckley made the observation that, "Nothing happens in the Church unless you work. It is like a wheelbarrow. It doesn't move until you get hold of the two handles and push. Hard work moves the work of the Lord forward, and if you have learned to work with real integrity it will bless your lives forever. I mean that with all my heart. It will bless your lives forever."
We understand that Transfer Week was disruptive to the work of several of our companionships, but we urge all our missionaries to reach the 15 or more full lessons weekly again and keep above 15 consistently. The blessings promised by Elder Yoshihiko Kikuchi to his missionaries and to each of us of baptizing at least monthly with that level of work output will come true.
Preach My Gospel Teaches Members How to be Successful Missionaries, By Elders Benjamin Zufelt (and Peter Stevenson)
"Elder Ballard made the statement that there was a wall between the members and the missionaries. I realize now what that wall is. The leaders of the ward and leaders all over the world have come out of the 'rudimentary' memorization form of missionary work. When they served as missionaries years ago they were taught to be 'Full-time Missionaries' and when they went home, many did not know how to be a member missionary. Today we are in the 'Preach My Gospel Era.' I came across an interesting statement on page xi of the Introduction under the section 'Use by Ward Missionaries and Leaders.' It states that 'Preach My Gospel is for the full-time missionaries of the Church. However, the principles and doctrines taught herein are also applicable to ward missionaries and leaders as they seek to build the Lord's kingdom.' Then it makes this statement regarding members: 'Frequent study of this manual will enable them to fulfill their responsibilities as member missionaries and will foster unity with the full-time missionaries.'
"As full-time missionaries it is imperative for us to learn how to become member missionaries so that we can teach the 'rote-memorization era missionaries' how to be member missionaries along with the other members of the Church. The way to learn to be a member missionary is through PMG. PMG teaches members how to be missionaries and prepares full-time missionaries to be member missionaries upon being released from our full-time missions..
"We have switched our focus in working with the members to teaching them how to use Preach My Gospel."
Youth-Oriented Video Made in Abbotsford First Ward, by Elders Alexander Bitting (and Daniel Roy)
"This has been my best week in the mission! For the past two weeks the Ward Mission Leader, Bro. Blair Porowski , Elder Roy, and I have been coming up with some awesome ideas to get people excited! We wanted to focus our efforts with the youth. So with a combination of talents we made a video using the youth that focuses on the importance of Chapel Tours. After a full day of editing the film was completed. This past Tuesday we had a Youth Fireside in the ward. It wasn't one of those firesides where the kids just sit there and listen to a speaker. They were actually participating in a few activities we had planned with the Ward Mission Leader. We stressed the importance of members in the conversion and retention of people coming into the Gospel. We premiered the youth movie and it was a hit! Everyone loved it and we concluded with each youth receiving their very own 'Ether Rock.' Each youth Set-A-Date to bring someone on a Tour, writing the date on the rock. We set 16 dates in one night and most of the youth already have someone in mind! They are excited and the leaders were excited! Forty people were in attendance including two non-members who are on the brink of conversion. We now have a total of 26 dates and more are to follow in the near future! Everyone is feeling the urgency as we share our goals with the members, and they are thinking about inviting those around them.
"I had the opportunity to speak last Sunday in Sacrament Meeting and pointed out that Satan knows there is a Temple going to be built here. He doesn't want the missionaries or members to succeed. Many members thanked me for the reminder, and many are now setting goals to assist our Heavenly Father in 'bringing to pass the immortality and eternal life' (Moses 1:39) of our Father's children."
We love you, and we so much appreciate that you are demonstrating your love for the Lord by your enthusiasm and hard work.
--President and Sister Middleton
Reminder: Ask for a referral in every conversation with a member or non-member alike…
"Will you bring an acquaintance on a Tour, and when?"
Challenge members to Set-A-Date for a Tour or a Church event, which can be coupled with a Tour at least 3 times yearly.
Our goal is to find at least one new investigator each day.
Remember our mission goal: 10 Gospel contacts per day per missionary outside our usual finding and teaching duties. That includes a Gospel message to everyone you see.
"Therefore, strengthen your brethren in all your conversation, in all your prayers, in all your exhortations, and in all your doings" --D&C 108:7
As weekly goals are set for each Key Indicator, pray for inspiration, and set goals that are lofty yet achievable. Our ultimate long-term goal is for at least 3 baptisms per companionship per transfer.
to read past messages.
---