Vancouver Mission Star
This message was written by President and Sister Middleton. It also appears in the Vancouver Star, the weekly newsletter of the Vancouver Mission. It is sent to each companionship throughout the mission.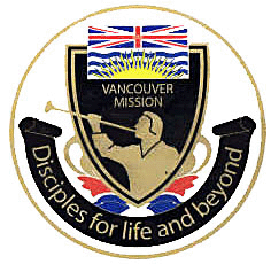 Canada
Vancouver
Mission
Newsletter
December
12, 2006
FOR SUCCESS, AVOID DOWN TIME
The close correlation between hard work and missionary success is becoming ever increasingly evident. Companionships which consistently have 15 or more full lessons each week are being blessed by the Lord with increasing numbers of investigators with baptismal dates. In missionary work perhaps more than any other aspect of life the promise made by the Lord holds true when He said, "I, the Lord, am bound when ye do what I say; but when ye do not what I say, ye have no promise" (D&C 82:10).
President Ezra Taft Benson made the same observation in a slightly different way when he said, "I have often said one of the greatest secrets of missionary work is work! If a missionary works, he will get the Spirit; if he gets the Spirit, he will teach by the Spirit; and if he teaches by the Spirit, he will touch the hearts of the people and he will be happy…. Work, work, work—there is no satisfactory substitute, especially in missionary work" (PMG, pg. 121).
Elders Donald Fewkes (and Taylor Zmoos) Have Success Through Hard Work
Noting that Elders Fewkes and Zmoos had 2 Chinese baptisms last week, one scheduled this week and another one next week, we asked what their secret to success was. Elder Fewkes answered, "It isn't much of a secret. We simply have no down time. We strive to fill every minute of every day and achieve 15 or more full lessons in the process."
His answer was both simple and profound in its wisdom. We succeed and are blessed as missionaries when we work hard. When we plan vigorously, hitting the phone every night to fill the next day with focused, well-organized work, filling each day to capacity and then some, managing our time so that we spend no more than one hour with any investigator or member, then we are blessed, as Elders Fewkes and Zmoos have been.
Sister Caitlin Morgan of the Campbell River Ward Tells of Her Conversion and the Impact of Tours
"Before I heard about the Latter-Day Saints Church, I thought that if we led a good life we would go to heaven, and if we didn't, well tough luck. But I also didn't think God had a plan for each one of His children. I told my LDS friend Geoff Marr that, and in the nicest way possible he told me I was all wrong. He told me about all of the different glories of heaven, and I liked that idea. Then somehow we started talking about Joseph Smith, and how the people treated him, and I didn't know what to think. Geoff asked me to come back to his house, and we read some of the Book of Mormon. He gave me his old one, and asked me to read it. I took it home, and it sat on my bed side table for probably a week. I was afraid of it. It just sat there, staring at me. Finally, Geoff asked me if I had read any of it, and I said no. He challenged me to read it that night, and then pray to see if it was true. I was so nervous; my heart was beating out of my chest. I read the first chapter of the first book of Nephi, and I didn't understand any of it at all. But I prayed about it, and I felt the Spirit tell me it was true.
"I then went on a Tour of the chapel with the missionaries. Geoff insisted, and I finally said okay. Elder Anderson and Elder Wilhite led the Tour. The Spirit was so strong during the Tour, and they gave me the first two lessons afterwards! Two of them!! Elder Anderson told me about Joseph Smith, and I thought in my head, "I am getting baptized." I don't even think I knew what baptism was yet, or that people did it when they were my age, but I swear that's what I thought! This all happened towards the end of February. The missionaries set a date for me to be baptized on March 11th, but my parents said no, so we decided on April 8th, the weekend after General Conference. So it was a little more than a month after I met with the missionaries for the first time. I think Tours are very effective, and we should be bringing more people on Tours. I already have a few people lined up!
"This was truly the best thing that I have ever done. I know that my Heavenly Father loves me very much. The Lord knew that I needed the Gospel, and it couldn't have come at a better time. I know that the Prophet Joseph Smith restored the Gospel to the earth today. I am so very grateful for that. My Savior Jesus Christ took upon Himself the sins of the world. He died for me and for you. He died for everyone. I love Him for that. I love hearing from the apostles and the prophet, because I know that they are receiving direct revelation from Heavenly Father. The Lord continues to bless my life, and it never ceases to amaze me at the wonderful blessings I receive from being a member of the everlasting gospel."
Point Out Blessings From the Lord to Obtain Member Family Referrals, by Elders Logan Rasmussen (and Justin Wilhite)
"We just recently baptized a family of three. We came in contact with them through a member family. (We have all heard it time and time again—member referrals are the way to go.) Elder Wilhite and I had decided after a long day of proselyting that we were really going to start pressing member referrals with all members we visited. We had looked at previous experiences, areas, and situations and realized that in the past, many members were sometimes reluctant to give them.
"In devising an approach to make members more willing and comfortable in letting us meet their friends, we concluded that we needed to be more bold and persuasive, but at the same time demonstrating our great love towards them. We found that the best way of obtaining referrals was to show the members the blessings they already had in their lives from the Gospel. Sometimes as members I think we all take things for granted and fail to notice our everyday blessings. As we pointed out their blessings, they began to truly feel the Spirit. As they did so, then we asked them whom they know who would be willing to accept the same blessings into their life. We've seen this approach work because the Spirit helps the individual at that very moment. Through this approach we were introduced to a family of non-members and were able to share the blessings a member family enjoys every day. The referred family is now baptized and looking forward to attending the temple.
"Our advice to all missionaries: work with the families of your ward, gain their trust, and show them you are responsible and fully engaged in the work. Then member families will introduce you to their friends."
We love you, and love working with you and our marvelous, faithful members in this Christmas season.
--President and Sister Middleton
Reminder: Ask for a referral in every conversation with a member or non-member alike…
"Will you bring an acquaintance on a Tour, and when?"
Challenge members to Set-A-Date for a Tour or a Church event, which can be coupled with a Tour at least 3 times yearly.
Our goal is to find at least one new investigator each day.
Remember our mission goal: 10 Gospel contacts per day per missionary outside our usual finding and teaching duties. That includes a Gospel message to everyone you see.
"And again, it is expedient that he should be diligent, that thereby he might win the prize" -- Mosiah 4:27
As weekly goals are set for each Key Indicator, pray for inspiration, and set goals that are lofty yet achievable. Our ultimate long-term goal is for at least 3 baptisms per companionship per transfer.
to read past messages.
---