Vancouver Mission Star
This message was written by President and Sister Middleton. It also appears in the Vancouver Star, the weekly newsletter of the Vancouver Mission. It is sent to each companionship throughout the mission.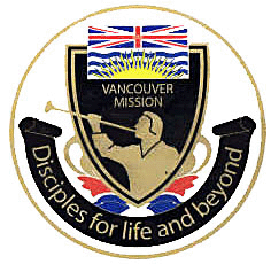 Teach by the Spirit
Canada
Vancouver
Mission
Newsletter
December 15, 2005
---
We must understand first and foremost that conversion only occurs by the Spirit. It isn't an intellectual exercise. A testimony cannot be obtained by using the scientific method of measurable experiments leading to logical conclusions.
The Cambridge Lessons
In my first mission, in Great Britain, my first assignment was in a companionship in Cambridge, England, a university city. School was in session, and hundreds of students were accessible to us missionaries. We had more teaching opportunities available to us than there was time to schedule, and only rarely did a student decline to meet with us. Despite teaching constantly we made no conversions. It wasn't until sometime later that I realized why we didn't convert. We were logically presenting the doctrine of the Gospel without striving sufficiently for the Spirit. The Cambridge students wanted to learn what our basic tenets were, but only in a comparative religion sense. Without seeking and finding the spiritual confirmation of the truthfulness of our message they were not converted.
Elder Kikuchi's Message
Elder Kikuchi's tour of our mission taught us many things about being better, more effective missionaries. Two excellent ideas he shared with us have to do with teaching by the Spirit.
To achieve the presence of the Spirit as we teach, Elder Kikuchi gave a superb demonstration of how we should present Joseph Smith's First Vision. He urged each of us to slow our speech, "as though we are driving at 20 km/hour down a major highway". Coupled with our slowed speech we should speak with great reverence and solemnity, and should achieve eye contact with our investigator frequently.
When we perceive that the Spirit is present in abundance, we should pause and ask the investigator what they feel. They will describe feeling the Spirit in their own terms, but we can then point out that what we feel is in fact the Spirit giving confirmation to their soul of the truthfulness of the message. Elder Kikuchi urged that we practice giving the First Vision story in companionship study, that we might master this marvelous teaching technique.
Arise Early and Master the Lessons
Elder Kikuchi urged that we all arise before the PMG recommended 6:30 A.M. By arising at 6:15 A.M. we can accomplish an added level of self-control and self-mastery, allowing us to accomplish the day's basics such as shaving, 30 minutes of exercise and a rapid shower, then become fully dressed as if ready for proselyting. He urged that we then find a quiet area in our apartment, our own "sacred grove," where we might kneel in fervent prayer to achieve the Lord's direction and affirmation of the day's activities. We then can go forth with full vigor, energized spiritually to accomplish the Lord's missionary work here in British Columbia.
Elder Kikuchi challenged us to then become better teachers of the Gospel message by:
1. Giving the "short" (3-5 minutes) lessons to our companion frequently through each week,
2. Write and rewrite each of the PMG lessons in a practice lesson plan, and
3. Aim toward giving a full lesson (30 + minutes) 10 or more times weekly. We are asking that each of you report in your Key Indicator report weekly the number of full lessons you gave through the week.
Compliance and Faith will Bring Increasing Numbers of Conversions
Elder Kikuchi has challenged us to bring in 50-60 new members in December, and then increase that number in the future to 160 per month. When we fully embrace the missionary techniques he brought to us, as mentioned above, and couple that with renewed faith that the Lord will help us achieve His work, there can be no doubt that we will achieve Elder Kikuchi's challenge. That number works out to be 3 baptisms per companionship per transfer, a goal we already are praying for.
We love each and every missionary, and are thrilled to be presenting our testimony of Christ with you to the wonderful people of British Columbia in this, the month we celebrate His birth. May we all have a merry but spiritually rewarding Christmas.
President and Sister Middleton
Remember our mission goal: 10 Gospel contacts per day per missionary outside our usual finding and teaching duties.
Remember:
"I, the Lord, am bound when ye do what I say; but when ye do not what I say, ye have no promise." D & C 82: 10
Reminder:
We are all praying for three baptisms per companionship per transfer!
NEW CONVERTS
Ø Abbotsford: Erin & Vera Prendergast Ø Nanaimo: Remy Chartier, Hilary Simms, Andrew Vautour
Ø Surrey: Jordy Stephens Ø Vernon: Lindsay Guenther, Solomon Loewen, Paige Weston
Ø Victoria: Ian Brown, Lillian Davidson
WELCOME NEW MISSIONARIES
Elders: Scott Allen (Virginia), Andrew Bristow (Utah), Bryan Davis (Missouri), Austin Johnson (Arizona), Brian Perkins (Utah), Jed Pugsley (Utah), Justin Wilhite (California), Rian Wilhite (California)

Sisters: Jill Berrett (Texas), Patricia Bland (Utah), Golda Janes (Idaho), Coleen Murray (Washington), Maria Slack (Arizona)

Language Elders: Michael Reina – Spanish (Alberta), Donald Fewkes – Mandarin (California)

Couples: Larsen & Maurine Boyer (Utah), Robert & Venna Gerber – Employment Center (Utah)

FAREWELL TO THE FOLLOWING
Elder David Edwards
I love being a missionary. I'm so grateful for the wonderful experiences and blessings I received. I know Jesus is my Savior and that the Atonement is real and changes lives. I know the Church is true. The challenge now for all of us is to make sure and know that we are true to the Church. That is my prayer and hope for all of us.
Elder Derrick Wong
"Let us realize that the privilege to work is a gift, that the power to work is a blessing, that love of work is success." (President McKay) "Whatever you can do or dream you can begin it. Boldness has genius, power, and magic in it." (Goethe) These are some of the greatest lessons I learned. Time is short. Make this the best time of your life.

UPCOMING ZONE CONFERENCES
December 29 Surrey/Abbotsford December 30ðVancouver/Language January 5 ðNanaimo/Victoria
January 11 Vernon January 13 Prince George
<![if !mso]><![endif]>
FROM THE ASSISTANTS
It's a cold and yet wonderful time of the year! This past transfer has brought some changes that are going to be of great significance to the work here. We had Elder Kikuchi come on short notice and inspire us to use our time more wisely, teach with power, master the lessons and many other things that are being implemented into our daily missionary life. What a blessing and a pleasure to hear from one of the Lord's chosen. Also, this round of Zone Conferences we had the privilege of reading scriptures and singing songs in remembrance of our Lord and Savior, Jesus Christ. As we heard the testimonies of the missionaries our testimonies were reaffirmed of the reality of our Savior. We love you all so very much and feel so blessed to be among you. May the lord bless you as we head into this new transfer with faith and with the spirit of Christmas!
--Elders Nemrow and Bailey
REMINDERS
10 Gospel contacts per day per missionary outside our usual finding and teaching duties.
We are all praying for three baptisms per companionship per transfer.
Merry Christmas!
to read past messages.