Vancouver Mission Star
This message was written by President and Sister Middleton. It also appears in the Vancouver Star, the weekly newsletter of the Vancouver Mission. It is sent to each companionship throughout the mission.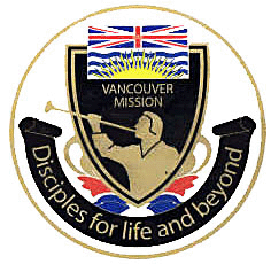 Canada
Vancouver
Mission
Newsletter
December
19, 2006
UNTO US A CHILD IS GIVEN*
May we take this opportunity to wish you each and every one a wonderful, memorable Christmas. Together we share the opportunity to give the greatest gift we ever will give, the gift of eternal, celestial life through a knowledge of the Savior and His teachings. Christmastime is unlike any other time in the year, as people throughout British Columbia open their hearts and their doors to us that we might tell them about Christ. Much the way merchants view December as their most successful sales month of the year, so it is with missionary work. We will find Canadians more receptive to our message about Jesus Christ this month than at any other time of the year.
My First Mission Christmas Experience
The Christmases you spend in the mission field are always the most memorable Christmases of your life. My first missionary Christmas was in Norwich, England. My companion and I went tracting on Christmas Day. Whereas tracting then in Norwich was much like tracting now in BC, with most households refusing to hear our Gospel message, on Christmas Day things were quite different. We were welcomed into every home, with no exceptions. We found the entire family home, and every family was receptive to what we now call a "full lesson" of 30 minutes! No other day in the mission was as sublimely glorious; no other Christmas in my life was quite so memorable.
We invite each of our missionaries to make Christmas Day as memorable for you as it was for me years ago in Norwich, England. Do call home to wish your family well, but limit the call to one hour or less so that you might spend as much of the day in the Lord's missionary work as possible. Visit your investigators with a Christmas message, and plan on tracting much of the day prepared to be warmly received everywhere. Brief visits with members on Christmas Day might be in order, but spend most of Christmas Day in personal finding. We predict that it will be the most productive day of your mission.
Tracting with Inspiration, by Elders Jeffrey Davis (and Russell Nebeker)
"One day this week I went into a room of our house and prayed for direction. I grabbed a map that was nearby and my attention was drawn to 57th Avenue, and we were inspired to tract there. It was snowing quite hard which I think helped to soften the hearts of the people with whom we spoke. We knocked on the only house that had Christmas lights on and an Indian family answered. They weren't interested but before leaving we asked them if they knew of any Spanish people on that street. The mom said no and she was just about to shut the door when her four-year-old son spoke up and said there was a Spanish family two houses down. (It pays to ask everyone for a referral, no matter how old they are.) We knocked on the door and sure enough, a Spanish lady answered. She wasn't too interested, and she said her daughter was too sick for us to come in anyway. We spoke up boldly and told her that the Lord had sent us to give her daughter a blessing. The Spirit overcame her as she invited us in. The blessing was powerful, and the Spirit was strong. The mom was brought to tears as she told us how she had been praying that God would heal her daughter and then she said that she knew God had sent us. It's because of experiences like this that I will never give up on tracting. We now have a return appointment to teach their family of seven about the Restoration."
Our Lesson of Nephi Building the Ship, a Good Missionary Tool, by Sisters Tracy Lynn Whiting (and Coleen Murray)
As we meet with member families we hand out pieces of colored construction paper to everyone there (including parents and us). We ask the members, 'who built a ship in the Book of Mormon?' They point out it was Nephi. We then ask the members to build a ship from the paper without tearing or tape. So they try and can't build a stable one. We read Nephi 17:8 where Nephi is commanded to build the ship. We point out that the members didn't ask us how to make the ship, but Nephi in verse 9 asked God where to find the tools to make their ship. Then we tell the members that we are just there to help them, and when others start to persecute them like Laman and Lemuel persecuted Nephi (we read verse 5), and as we continue to pray for guidance (like in Nephi 18:3), the Lord will help us with missionary work! Just like he helped Nephi! All we need to do is ask!
"Then we commit the member to either set-a-date or pray about a date. Then when the member sets their date, they write it on their boat. We have magnets that we leave with the members so they can put their 'ship to the Promised Land' or 'date for a Tour' on their refrigerator!
"Andrew Cooper was so excited about the lesson; he had three non-members over to his house for a mini fireside. One of those non-members came to Church today! We are so excited!"
Editor's note: Sisters Whiting and Murray have presented a wonderful, novel idea. If it will work elsewhere, please try it and let us know how it works.
Finally, may we tell you each how much we love you, and extend to you our warmest wishes for Christmas. That this might be your most memorable Christmas ever is our prayer.
--President and Sister Middleton
Reminder: Ask for a referral in every conversation with a member or non-member alike…
"Will you bring an acquaintance on a Tour, and when?"
Challenge members to Set-A-Date for a Tour or a Church event, which can be coupled with a Tour at least 3 times yearly.
Our goal is to find at least one new investigator each day.
Remember our mission goal: 10 Gospel contacts per day per missionary outside our usual finding and teaching duties. That includes a Gospel message to everyone you see.
"Lift up your head and be of good cheer; for behold, the time is at hand, and on this night shall the sign be given, and on the morrow come I into the world…." -- 3 Nephi 1:13
As weekly goals are set for each Key Indicator, pray for inspiration, and set goals that are lofty yet achievable. Our ultimate long-term goal is for at least 3 baptisms per companionship per transfer.
*See Isaiah 9:6 and 2 Nephi 19:6
to read past messages.
---