Vancouver Mission Star
This message was written by President and Sister Middleton. It also appears in the Vancouver Star, the weekly newsletter of the Vancouver Mission. It is sent to each companionship throughout the mission.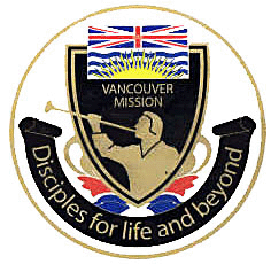 Canada
Vancouver
Mission
Newsletter
December
19, 2006
A TIME FOR REFLECTION, RESOLUTION
As 2006 has come to a close we feel it is appropriate that we each make time to reflect on the year, and give thanks to the Lord for the many blessings He has showered upon us. As a mission we have been blessed to experience a quickening of the Spirit. Our baptisms in 2006 have significantly increased, with 201 convert baptisms in British Columbia through Christmas. In 2005 there were 176 baptisms, while in 2004 there were 155. Overall this improving growth reflects the fact that our Father in Heaven is blessing His Church in BC. Looking for the component parts leading to His blessings is useful, for the Lord blesses us in proportion to our faith and dedication ("I, the Lord, am bound when ye do what I say; but when ye do not what I say, ye have no promise." D & C 82:10)
Components of Success
Reflecting on what we did well and what we might do better is helpful. We urge each missionary to list his or her personal experiences on paper as we now list what we feel are some of the helpful mission-wide points of endeavor through which the Lord has blessed us as a mission:
· Exact obedience. As a mission we have seen steady improvement in the personally controllable obedience issues—every missionary up by 6:15 a.m., thirty minutes of aerobic exercise, two hours of focused intense personal and companionship study (with one extra hour for the language missionaries), at least one hour of personal finding, and proselyting rather than eating during "Prime Time" (5-9 p.m.) Without exact obedience the Lord will not likely bless us with success.
· Better time management. In order to see as many people as possible in a day, we are learning to limit each appointment to one hour or less and are striving to fill each day fully.
· Better planning. Upon arriving at our apartments by 8:30 p.m. (occasionally later if circumstances require), we are immediately calling the next day's appointments to confirm and then fill gaps in the schedule with calls to members to go on a Spiritual Tour of the Chapel or to some other teaching activity.
· Fifteen or more "full lessons" each week. This goal, given to us by Elder Yoshihiko Kikuchi during his tour of BC, worked well for his missionaries when he was a mission president to assure one or more baptisms each month. While several missionaries were skeptical initially that they could attain this level, now most of our companionships do so routinely and many exceed 20 full lessons each week, and the promised blessings from the Lord are coming true.
· Focus on making each ward and branch Mission Plan succeed. Our pre-eminent goal is to help the bishop/branch president and mission leader make their Mission Plan succeed. While nearly every ward and branch has now developed its own Mission Plan during 2006, as urged by Preach My Gospel, each Plan has its unique characteristics, and we are stepping forth boldly to help the ward/branch leaders achieve their specific Plan goals.
· Integrating into wards and branches. In years gone by missionaries spent all of each day in personal finding (tracting, "shop," etc.) while the members viewed their role as little more than feeding the missionaries from time to time. PMG makes it clear that the best success in terms of productive, efficient finding, and in subsequent new convert retention is found when all members function as true member missionaries, with the full-time missionaries effectively integrated into all ward functions to facilitate members becoming effective member missionaries.
· Members finding and bringing three or more acquaintances each year. Nearly all ward or branch Mission Plans call upon each member or member family to bring three acquaintances/friends per year on a Spiritual Tour of their Chapel, or to a ward/branch activity which can be coupled with a Tour to optimally present the all-important Restoration Lesson. Numerous examples of the positive impact of a well-given spiritual Tour have been presented in the STAR in 2006, and our increasing baptisms are linked to their impact, which bring the Spirit to the investigator in a powerful way to testify of the truth of our message. Members are still learning how to be member missionaries, how it always requires "asking many to find the few" whom the Lord has prepared as His "elect."
· Spiritual Tours of the Chapel given often, to improve and refine teaching skills. The ideal use of a Spiritual Chapel Tour is when every ward/branch member or member family organizes their year as member missionaries by establishing a Set-A-Tour-Date every three to four months. One of every seven investigators who first learns of the Church through a Spiritual Tour goes on to baptism, as our BC experience has shown. Members often are invited to go on a Spiritual Tour on short notice, even one day or same day notice, to allow the missionaries to practice and refine their lesson-giving skills. We are asking members to be prepared to offer constructive criticism to the missionaries at the conclusion of the Tour so that the quality of their teaching can be improved.
These and a few other components constitute the Lord's plan to achieve increasing Church growth in BC. We know now how to realize the Church growth in BC prophesied by Elder Henry B. Eyring in March of 2005 when he told us from the pulpit in Nanaimo, "I am clear that the Lord is going to build the Church in this area in a powerful way, and beyond what you might expect…. substantial growth is before us… by my human judgment it will be a miracle." Our job in 2007 both as full-time and member missionaries is to embrace and perfect these tools He has provided for us.
That we might each and every one learn to incorporate all of these missionary methods into our finding and teaching in 2007 is our prayer. We love you, and pray for the Lord's richest blessings to be showered upon you.
--President and Sister Middleton
WELCOME NEW MISSIONARIES
Elder: Cory Douglas (Pleasant View, UT)
Sisters: Crystal Caribou (Flin Flon, MB); Te'Ama Dye (Bountiful, UT)
Couple: Veon & Mary Hatch (100 Mile House, BC)
FAREWELL TO THE FOLLOWING

Elder Taylor Earl Edwards
AMEN!
Elder Jonathan Vance Kano
Matt 6:21 "For where your treasure is, there will your heart be also." Find your treasure, and that is where your heart will be. Peace.
Sister Lindsay Antonia Leavitt
I can honestly say God has filled my soul with exceeding joy. God has transformed me. I am a firm believer of 2 Timothy 1:7, "For God hath not given us the spirit of fear; but of power, and of love, and of a sound mind." God lives, the Book of Mormon is my shield. I cannot go a day without it. Lose yourself in the work. He will fill your soul.
Elder Steven Carl McGrath
"Life is sometimes unpredictable. But in the end it's right, so I hope you had the time of your life" (Green Day). Enjoy what you have because you are not always going to have it. To my boys, J. Wilhite and H. Heaton, I wasn't the best trainer, but do your best! "O be wise; what can I say more?" (Jacob 6:12)
Elder Daniel Jonathan Roy
I know that Heavenly Father and His Son Jesus Christ live, and He loves all His children. Our job is to show that love to the wonderful people of British Columbia. How blessed and how privileged we are to be representatives of our Lord and Savior Jesus Christ to the people of BC.
Elder Nathan William Seegmiller
My beloved friends, it has been great serving around you up here in Canada land. It has definitely been an adventure! Remember, you have two years to serve the Lord and the rest of your life to talk about it. D&C 31:3 "Lift up your heart and rejoice, for the hour of your mission is come; and your tongue shall be loosed, and you shall declare glad tidings of great joy unto this generation."
NEW CONVERTS
Abbotsford:
Nanaimo: James Emery, Stephen Faires, Sarah Jim, FuShing Ma
Prince George:
Surrey: Carlin Fothergill, Ivette Urroz, Robertlyn Zeigler
Surrey Language: Rainbow Chen, Vivian Chen, Audrey Soong
Vancouver: Steven Chan
Van Language: Jorge Alfaro, Rudy Ventura, Angela Xiong
Vernon: Coreen Geisheimer, Miranda Kuss
Victoria:
Jason Guest, Victoria Lan, Derek Soule
FROM THE ASSISTANTS—ELDERS BAKOW & BITTING
At the closing of the year we would like to congratulate all of our fellow hard-working missionaries for the heartfelt service you give. This year our mission has improved dramatically in more ways than one. It seems that the way things are going next year will be as they say, "epic." Now it's time to make our New Year's resolutions. We must step up to the plate and show our Father in Heaven that we truly are serving with all our heart, might, mind, and strength that we may qualify ourselves for all the blessings that He has in store. Show your love for the Lord by selflessly forgetting yourself in this work. We love you and are pleased with your efforts to "aid in this cause that is worthy of archangels" (Joseph Smith).
UPCOMING ZONE CONFERENCES FOR JANUARY
Jan 4 – Van/Van Lang Jan 11 – Surrey/Sur Lang/Abbots Jan 18 – Nanaimo/Victoria Jan 24 – Vernon Jan 26 – Pr George
Reminder: Ask for a referral in every conversation with a member or non-member alike…
"Will you bring an acquaintance on a Tour, and when?"
Challenge members to Set-A-Date for a Tour or a Church event, which can be coupled with a Tour at least 3 times yearly.
Our goal is to find at least one new investigator each day.
Remember our mission goal: 10 Gospel contacts per day per missionary outside our usual finding and teaching duties. That includes a Gospel message to everyone you see.
"Organize yourselves; prepare every needful thing; and establish a house even a house of prayer, a house of fasting, a house of faith, a house of learning, a house of glory, a house of order, a house of God." -- John 7:17
As weekly goals are set for each Key Indicator, pray for inspiration, and set goals that are lofty yet achievable. Our ultimate long-term goal is for at least 3 baptisms per companionship per transfer.
to read past messages.
---