Vancouver Mission Star
This message was written by President and Sister Middleton. It also appears in the Vancouver Star, the weekly newsletter of the Vancouver Mission. It is sent to each companionship throughout the mission.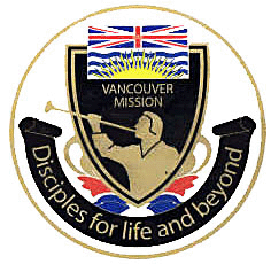 Canada
Vancouver
Mission
Newsletter
December 5, 2005
---
Finding Through Baptismal Services
We're finding that new tools described in Preach My Gospel are very successful in finding and accelerating our missionary activities. Elder David Paskett shared his experience in Nanaimo, where he and Elder Palmer focused on using a baptismal service to find new contacts. Here is his edited report:
"On Friday, October 21, 2005 Andrew Vautour was baptized. Andrew is a 15 year old boy who was referred by his recently baptized friend, Kendra Greene. Brother Evan Clarke, the Ward Mission Leader, mentioned that a baptismal service, according to Preach My Gospel, is the number two most effective source for finding. Elder Taylor, Brother Clarke and I went to work to see if the baptism could be used as a finding tool. We assigned people to bring refreshments. We made certain that two solid speakers were scheduled and invited all the members to come and to bring a friend. Sisters Dunn and Grimm also brought members from their ward, which meets in the same Nanaimo building, and they asked that they bring friends. They also had the baptism announced in seminary.
"The goal was to fill up the Relief Society room with friends of Andrew along with fellowshipping members. On the night of the baptism we found that we overflowed the Relief Society room and filled up the chapel!! About six nonmembers were there, and most received a Tour of the building. All of those nonmembers felt the spirit of the baptism. One of the nonmembers we met was Remy Chartier, who felt the spirit strongly and went on to additional lessons.
"These lessons culminated in the baptism of Remy on November 26, 2005. That baptism was used in the same way that the baptism of Andrew had been, and on November 26 there were nine nonmembers there, and eight received Tours! Five of those nonmembers had a first discussion, and one of the nonmembers, a lady named Jessy, felt the spirit so strongly she stated that she would like to be baptized as well! I wish I had discovered this finding technique earlier in my mission. All it takes is a little extra work on the part of the missionaries and the ward, and it has proven to be extremely successful."
What a fabulous finding tool! We hope all of our missionaries will use baptismal services similarly. We would appreciate it if you could briefly write up your experiences and send them to us for future STARS. Also send us written accounts of successful Tours you have had with members only or with nonmembers as well.
We love you all, and love working with you.
--President and Sister Middleton
Remember our mission goal: 10 Gospel contacts per day per missionary
outside our usual finding and teaching duties.
"And now, behold, I say unto you, that the thing which will be of the most worth unto you will be to declare repentance unto this people, that you may bring souls unto me, that you may rest with them in the kingdom of my Father. Amen." Doctrine and Covenants 15:6.
Reminder:
We are all praying for three baptisms per companionship per transfer!
to read past messages.