Vancouver Mission Star
This message was written by President and Sister Middleton. It also appears in the Vancouver Star, the weekly newsletter of the Vancouver Mission. It is sent to each companionship throughout the mission.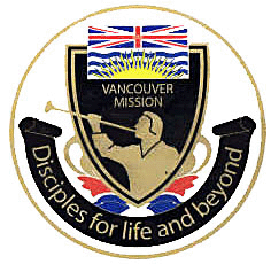 Canada
Vancouver
Mission
Newsletter
December
5, 2006
CANADA REGIONAL CONFERENCE—A MISSIONARY FOCUS
The Canada Regional Conference on November 19, 2006, was inspirational and very uplifting. To hear words of counsel from our own Prophet, Pres. Gordon B. Hinckley, as well as from Elder M. Russell Ballard of the Quorum of the Twelve, and Elder R. Conrad Shultz was extraordinary. We were particularly pleased that much of the focus was on missionary work, and several wonderful missionary ideas were presented.
Reach Out to Friends and Acquaintances
Elder Schultz noted that for each member family to develop a Gospel-sharing home is not a program, but rather should be a way of life. He urged every member to invite friends into the flow of their family, and pointed out that friends and relatives have earned the right to hear the Gospel message and see a Gospel-centered family in action. As friends of members start lessons with the full-time missionaries, the members ideally should be present in the lessons to give support, help answer questions and bear their testimony. He also pointed out that members need to make themselves available to the full-time missionaries to become fellowshippers for their investigators. President Hinckley focused on fellowshipping as well when he urged that we all reach out with love to every convert. He counseled that every new convert should be given a calling early, and he plead with us as members and families to be so welcoming that there is no more loss of new members into inactivity.
Invite Investigators to Baptisms
Elder Schultz urged that we gain a list of four to six friends or relatives of those to be baptized and then invite them to come to the baptism. While at the baptismal service these friends and relatives will feel the Spirit and the warm and inviting camaraderie of the saints. He made the excellent suggestion that while the new convert is dressing after the baptism that the full-time missionaries give a 10-minute rendition of the Restoration Lesson, so that the non-members present might learn of the reason why their friend or relative was baptized. Of course the non-member should be taken on a Tour and further introduction to the Church on the day of the baptism, or an appointment should be made to do so. Elder Schultz noted that two of very five non-members who attend a baptism go on to lessons. If the person being baptized is a child, Elder Schultz urged that the Primary teacher make up invitations for that child's non-member friends and relatives.
Let us all focus on each and every baptism as a proselyting opportunity, as the Brethren have so wonderfully and forcefully urged, that each baptism might lead to additional baptisms.
Campbell River Ward Develops "Smiley Face" Mission Plan
We were privileged to drive to Campbell River for a Ward Dinner on November 11 and then stayed over to speak at Sacrament Meeting on November 12 and to a Fireside that night to which six investigators plus several less-active members came. We were pleased to see the new Ward Mission Plan, which challenges each member to bring four or more "families and/or individuals" each year to a Tour of the chapel. The Plan is distributed with "Smiley Face" stickers, with boxes along the lower border of the Plan to which a sticker is applied each time someone is brought on a Tour.
Congratulations to the Ward Mission Leader, Bill Mackie, and to Bishop Leonard Aspden and the rest of the ward leadership for their great, novel idea. Especially for families with children this idea will spark great interest.
A Baptism and Many Investigators From Tours in the Victoria 2nd Ward, by Elders Maclain Miles (and Brandon Loong)
"Things here in Victoria are going really well. Bishop Frank Hitchmough is thoroughly on board; he has taken seven people on Tours so far. We also have 30 Tours set up with the families in the ward. This Saturday we are getting our first baptism out of the Tours, so Tours really do work! We also have some awesome investigators that are progressing."
Editor's note: The members of the Victoria 2nd Ward are following the lead and example of their inspired bishop, Bishop Frank Hitchmough. We are observing the same phenomenon throughout B.C., that members will do what their leaders show them they should do through their own example coupled with loving, enthusiastic exhortation to their members to do likewise.
We love you, and love working with you and our marvelous, faithful members in this Christmas season.
--President and Sister Middleton
Reminder: Ask for a referral in every conversation with a member or non-member alike…
"Will you bring an acquaintance on a Tour, and when?"
Challenge members to Set-A-Date for a Tour or a Church event, which can be coupled with a Tour at least 3 times yearly.
Our goal is to find at least one new investigator each day.
Remember our mission goal: 10 Gospel contacts per day per missionary outside our usual finding and teaching duties. That includes a Gospel message to everyone you see.
"Be faithful and diligent in keeping the commandments of God, and I will encircle thee in the arms of my love" --D&C 6:20
As weekly goals are set for each Key Indicator, pray for inspiration, and set goals that are lofty yet achievable. Our ultimate long-term goal is for at least 3 baptisms per companionship per transfer.
to read past messages.
---